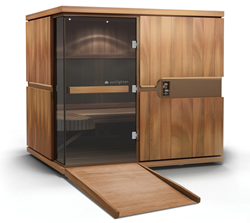 Our new ADA sauna offers the most effective and safest far infrared technology available.
Overland Park, KS (PRWEB) May 14, 2014
Sunlighten has launched a new ADA-compliant far infrared sauna featuring Solocarbon® technology - the most effective on the market, it was announced today by Connie Zack, Chief Sales Officer of Sunlighten.
Sunlighten's Solocarbon® far infrared heaters are the only sauna heaters that have been clinically shown to lower blood pressure, increase core temperature, aid in weight loss, and have been proven 95% emissive. This patented heating technology is now available in an industrial-grade design that is 100% compliant with the American Disabilities Act. The sauna features 36" door, 60"x60" turning space and an exterior ramp with safety rails and brushed finish to prevent slipping. Industrial-grade construction made from premium eucalyptus wood with a thicker floor, 16 gage electrical wiring and a non-toxic, waterproof sealant to protect from sweat makes this sauna ideal for commercial use.
Since its founding in 1999, Sunlighten has engineered products that are both effective and safe. The ADA far infrared sauna features Sunlighten's proprietary heater design that virtually eliminates all traces of EMF (electric and magnetic fields) making it as safe as possible. The Solocarbon® heater panels contain a proprietary blend of materials that are 100% quality controlled by Sunlighten™ and are heat-sealed with no wires or glues used, ensuring no unhealthy gases are released during heating to comply with commercial safety standards.
The ADA sauna launch highlights Sunlighten's 15th year in business and continues their record of industry firsts. Sunlighten offers the first saunas made from eco-certified eucalyptus wood. Eucalyptus is highly sustainable and extremely durable for wheelchair and commercial use. Complementing Sunlighten's beautiful long-lasting craftsmanship, the ADA sauna also has removable benches with three different variations for use. With their exclusive acoustic resonance therapy enhancement, which combines the healing effects of sound and vibration to balance the brainwaves bringing the body to a deeper state of relaxation, the ADA sauna offers the ultimate far infrared sauna experience.
"Our new ADA sauna offers the most effective and safest far infrared technology available. With the versatility and options we offer, such as removable benches for additional space and acoustic resonance therapy, our customers can truly empower themselves to live healthier," said Zack. "There is simply no better or more therapeutic far infrared sauna available on the market today."
Sunlighten saunas provide therapeutic benefits including detoxification, weight loss, pain relief, lower blood pressure, improved circulation, wound healing and cell health. The ADA sauna provides a healing environment that is not restricted for those with physical disabilities. "We've seen a trend with veterans using our saunas because the infrared provides pain relief while the acoustic resonance therapy helps to manage stress and the effects of PTSD." said Zack. The company now offers a military discount off their products.
For more information about Sunlighten saunas, including emissivity, weight loss, blood pressure and other clinical effectiveness studies, visit the Sunlighten website at http://www.sunlighten.com.
ABOUT SUNLIGHTEN
Founded in 1999, Sunlighten™ (formally Sunlight Saunas) offers innovative wellness products that strengthen individuals' health and vitality through sauna technology. Sunlighten infrared saunas help detoxify the body, provide pain relief, and have been clinically shown to reduce blood pressure and assist in weight loss. For more information and Sunlighten products, please visit http://www.Sunlighten.com.