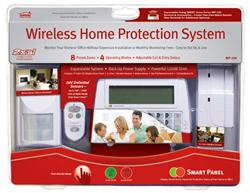 Protecting the home, office, dorm, hotel room and person has never been easier or affordable with SABRE Home Series.
Fenton, MO (PRWEB) May 20, 2014
SABRE, one of the most trusted names in personal and professional safety for almost 40 years, is pleased to announce the new SABRE Home Series. Protecting the home, office, dorm, hotel room and person has never been easier or affordable with SABRE's three new product categories: Wireless Home Protection System, Standalone Alarms and Personal Alarms.
The Wireless Home Protection System provides a comprehensive option to safeguard your home or office. Easy to install and no monthly monitoring fees, this system allows control of an unlimited number of sensors from the main control panel or key fob. SABRE's system secures eight zones. With up to twice as many zones as other systems, you can identify more precisely where the intrusion is taking place. Included in the Wireless Home Protection System is the control pad with tri-color display, four operating modes, a key fob remote control, one wireless motion detector and two window/door sensors. MSRP the Wireless Home Protection System is $139.99. Additional accessories are between $19.99 and $39.99.
SABRE Standalone Alarms are a practical solution for protecting homes, offices, apartments, dorm rooms and hotel rooms. In alarm mode, a built-in 120 dB siren alerts users and deters intruders. Many models include a chime mode which is ideal for alerting when people enter or exit a room when the user is at home. Additional Standalone Alarms include: models for the shed/garage, apartment kit, dorm kit, motion alarms, window alarms, glass break alarms, parking attendant, water leakage alarm, fake security camera, book safe and panic alarm. The Standalone Alarms are economical with MSRP between $9.99 and $34.99.
Personal Alarms from SABRE provide a simple and inexpensive way for personal protection while one the go. The Personal Alarms look like memory sticks on a key chain. When activated, a 110 dB alarm is sounded. The alarm can be heard up to 300 feet. The Personal Alarm can be easily attached to a keychain, bag, backpack or purse. Ideal for college students, moms, runners, seniors and service industry personnel, the Personal Alarms MSRP is between $9.99 and $14.99 and available in several colors.
The new SABRE Home Series is now available in 1,800 Target stores across the country and online. Whether living in an apartment, dorm room, small or large home or spending the night in a hotel room, the SABRE Home Series has the solution to help keep you and your possessions safe.
Family owned and operated since 1975, Security Equipment Corporation (SEC) is the manufacturer of SABRE Home Series, Protector Dog Attack spray, Frontiersman Bear Attack Deterrent and SABRE and SABRE RED personal & professional pepper sprays. A dedication to innovation coupled with a commitment to producing the safest and most effective products has made SEC the industry leader in personal and professional safety products.
For more information about SABRE Home Series and other Security Equipment Corporation products, go to http://www.sabrered.com – http://www.sabrehome.com.