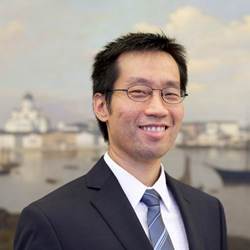 Rather than guessing at bad behavior, behavioral analytics offers a powerful and accurate way to detect and alert on the most risky, most suspicious, and most important behaviors occurring in the enterprise.
Ottawa, ON (PRWEB) May 13, 2014
FileTrek Chief Technology Officer Stephan Jou will present on the evolution of big data, behavioral analytics and security, focusing on how the right math can greatly reduce noise and false positives, accurately detect complex insider and targeted outsider attacks and change the way critical data is protected at the ISACA Houston AGM and CPE Training Day, May 16 at the Crowne Plaza, Houston. Jou is an expert in enterprise threat detection, advanced behavioral analytics and anomaly detection and a frequent presenter to information security professionals and those charged with data assurance, risk management and governance.
ISACA an independent, nonprofit, global association engaged in the development, adoption and use of globally accepted, industry-leading knowledge and practices for information systems. Jou will present "The Intersection of Big Data, Behavioral Analytics and Security - How Math Can Change the Way We Protect Critical Data," on Friday May 16 at 2:20 p.m.
New techniques in threat detection are combining real-time big data collected from endpoints across the enterprise with advanced behavioral analytics and machine learning, enabling even small security teams and those without forensics experts to understand and act against threats to sensitive data before systems are compromised. Jou's presentation will cover:

How applying math-based behavioral analytics can more accurately detect the complex and often hidden events that are the precursors to insider threats and targeted outside attacks
How math can compute the probability of anomalous events and apply risk scores based on the context of the events and the sensitivity of files involved
The latest capabilities of machine learning to determine accurate baselines of system, human and group behavior over time and identify and score behavioral risk, based on deviations from these baselines
The future of increasingly powerful analytics and how it can be applied to security
Example users cases in life sciences, oil & gas, and traders/broker industries
"Proper use of behavioral analytics in security can avoid the challenges of traditional false positive heavy approaches like cracking open files for content inspection and classification, or setting rules-based quarantine or blocking policies with only simple understanding of normal data traffic versus anomalous behavior," says Jou. "Rather than guessing at bad behavior or what a sensitive file is, behavioral analytics offers a powerful and accurate way to detect and alert on the most risky, most suspicious, and most important behaviors occurring in the enterprise – as they happen."
Learn more about behavioral analytics via FileTrek's whitepaper, "Big Data and Behavioral Analytics Applied to Security." Register for ISACA Houston's event at http://www.isacahouston.org/.
About FileTrek
FileTrek (http://www.filetrek.com) provides efficient and effective enterprise threat detection through comprehensive event collection, advanced behavioral analytics and precise anomaly detection. FileTrek enables companies of all sizes to eliminate the noise and false positives of existing security tools and focus limited security resources on actual threats to sensitive data assets. FileTrek's cutting-edge solution secures intellectual property, trade secrets, classified files, and other sensitive data from accidental or intentional compromise by knowledge workers, IT administrators, contractors, and partners. FileTrek solutions are deployed to protect critical data across manufacturing, life sciences, hi-tech, finance, aerospace and defense and securities brokerage industries.