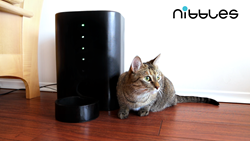 Toronto, Ontario (PRWEB) May 14, 2014
Pet owners no longer have to feel guilty leaving their pets at home when they are out. Neither will they have to worry about missing their pet's scheduled feeding times anymore or wonder what their pet is up to when they are not at home.
Nibbles is currently launching a Kickstarter campaign to fund its smart pet feeder with a camera. Nibbles will allow more than 79.4 million U.S. dog and cat owners to feed and watch their furry companions from anywhere at any time with just a click of a button.
The story behind building Nibbles is quite simple. Jonathan, the CEO, wanted a way to be able to feed his dog while he was working late. Justin, the CTO, on the other hand just wanted a way to stop his cat from waking him up in the early mornings. After looking into the market and finding no products suitable to their liking, they immediately set out to build their own.
Nibbles allows pet owners to check up on their pets using the built-in camera that is accessible with any Android or iOS device. Working late or catching up with friends? The device will dispense food according to a schedule and notify owners via SMS/email. Currently, Nibbles only monitors food outtake but in the future it will help create a recommended diet.
"As a company, we're interested in how we can use technology to make pet owner's lives easier." explains Jonathan Ku, co-founder and CEO of Nibbles. "As a pet owner myself, I'm excited to see how we can create a healthy lifestyle with proper feeding and exercise."
Nibbles will sell at a discounted price on Kickstarter and plans to ship out the product by February 2015. A demo of the prototype and media kit can be viewed at http://www.getnibbles.com. The Kickstarter link can be seen at http://www.bit.ly/getnibbles
About Nibbles: Founded in October 2013, by two Canadian students (Jonathan Ku, Justin Kim), Nibbles is a startup in the pet and consumer electronics industry located in Toronto, Ontario. Nibbles allows pet owners to stay connected with their pets anytime, from a smart pet feeder with a camera.
# # #
If you'd like more information about Nibbles, or to schedule an interview with Jonathan Ku, please call (647) 338-6159 or email jonathan(at)getnibbles(dot)com