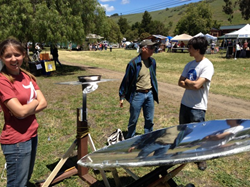 "We used the Scheffler Reflector to cook food all summer long, kebabs, hot dogs, pasta, vegetables - as many types of food as we could."
San Luis Obispo, CA (PRWEB) May 14, 2014
Cal Poly engineering and physics students in San Luis Obispo are collaborating with a German development team to help residents of some of the world's most undeveloped locations cook food with solar energy. The students' goal is to create a working solar concentrator that can be produced in poor villages simply and inexpensively as a viable cooking option for those presently relying on open-fire cooking.
For millions of people in developing countries, open-fire cooking smoke causes a high number of respiratory problems and premature deaths, especially among children and infants. To address this problem, Wolfgang Scheffler invented the Scheffler Reflector, a solar concentrator cooking system. In the interest of promoting renewable energy, Scheffler made his design publicly available and never patented it.
Since the main difficulty with harnessing the sun's energy is accounting for continuous movement of the sun, one of the most important aspects of a solar concentrator is its tracking system. The beauty of the Scheffler is that it relies on single-axis tracking for daily operation and the focus (hot spot) is stationary. However, the angle of inclination and shape of the curved mirror must be changed seasonally. Scheffler does this masterfully with a resilient metal lattice, but the building process is rather complicated. Scheffler and his wife Heike run dedicated workshops world-wide through the NGO Solare Brücke, teaching individuals, schools and businesses in developing countries how to construct these solar concentrating cookers since 1986.
The Cal Poly solar concentrator program is the brainchild of Dr. Pete Schwartz, Physics Professor at Cal Poly SLO. Schwartz specializes in appropriate technology – technology that is suitable to the social and economic conditions of the geographic area in which it is to be applied, is environmentally sound, and promotes self-sufficiency on the part of those using it. In Schwartz's appropriate technology program, Cal Poly students learn collaboratively with people in developing countries, exploring solutions while reflecting on their own lives to inform change at home. For example, Guateca is an ongoing project that involves two-month summer trips to the Guatemalan village of San Pablo, and serves as a cross-cultural educational platform for both Guatemalan and US students alike.
When he learned about the Scheffler Reflector, Schwartz was excited about its performance and simplicity of operation. First, Schwartz and a team of students took advantage of the publicly available plans. They built North America's first Scheffler Concentrator in 2010 with a traditional metal lattice.
The concentrator worked well. "We used the Scheffler Reflector to cook food all summer long: kebabs, hot dogs, pasta, vegetables – as many types of food as we could," said Simo Alberti, a mechanical engineering student. Next, Schwartz and the Cal Poly solar concentrator research group set out to further simplify construction with the hope of making solar concentrators accessible to more people.
In an attempt to develop a less expensive and simpler way to produce the metal lattice reflecting dish, the Cal Poly team formed resilient dishes instead by laying fiberglass onto a reusable form. Students created the form by using a computer-controlled mill to shape Precision Board Plus polyurethane tooling board, donated by Cal Poly sponsor Coastal Enterprises. The group achieved a good portion of their goal of streamlining construction: four people completed the fiberglass reflector dish in two hours. The dish's surface was made reflective by adhering broken mirror pieces or aluminum coated mylar, successfully creating a low-cost, functioning prototype.
Physics students Tyler Murphy and Evan Johnston are now designing a course on making solar concentrators, which will be open to the public at the local MakerSpace. Schwartz said, "Our stateside goal is to get feedback from a large number of local builds and operators in order to practice building these with nonspecialists."
"While this design allows us to make these concentrators quickly, simply, and inexpensively in San Luis Obispo, there remains considerable innovation before we can introduce this technique in a place that doesn't have access to a $100,000 computer controlled mill and fiberglass technologies. Scheffler is responsible for thousands of locally made metal lattice concentrators because people can bend and weld metal almost anywhere."
Students in Schwart'z appropriate technology classes have been working on a process to lay up dishes of fabric, latex and cement on molds made of earth. "Their work is inspiring, but we have a ways to go before we take it to Africa." Schwartz partners with several grass roots development organizations in Africa including Seeds of Hope, Working Villages, and Project Hope and Fairness.
This program represents an innovative approach toward a solution for the countries affected daily by the consequences of cooking smoke, deforestation and resource depletion. Coastal Enterprises is a proud sponsor of Cal Poly and strong backer of the program started by Schwartz. Please see additional information about Coastal Enterprises at: http://www.precisionboard.com.