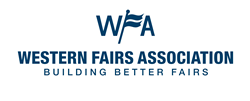 The fairs are a critical state asset that must be properly maintained and preserved, especially in the event of a fire threat.
Sacramento, Calif (PRWEB) May 14, 2014
As a particularly dangerous wildfire season approaches, Californians should know that their local fairgrounds provide a safe haven within their communities during emergencies and natural disasters, the Western Fairs Association announced today.
This reminder comes on the heels of Governor Jerry Brown's proclamation of Wild Fire Awareness Week as a way to educate Golden State residents about fire prevention and what to do during an emergency. The state has already responded to a 120 percent increase in wildfires this year caused by drought conditions, with more than 1,200 wildfires since January 1, 2014, according to officials from CAL FIRE.
"Our fairgrounds are typically the only locations available to stage an emergency response and shelter evacuees," said Pat Kress, president, Western Fairs Association. "An important component of emergency planning is for all Californians to know where their fairgrounds are located in their communities."
California's 76 fairgrounds are experienced and at the ready to serve as a refuge in the event of a crisis; they function as operational staging centers and provide the primary refuge for evacuated livestock, horses, pets and other rescued animals.
Despite the vital role fairgrounds play in safeguarding public safety, the state's network of fairs has suffered in the past three years from a lack of funding necessary to maintain their important infrastructure. Nearly 30 percent of the fairs are on what they call "watch" list status, putting them in the precarious situation of being eliminated.
Recognizing the need to invest in these state assets, a bi-partisan group of 32 state legislators recently called on the Legislature to make fair funding a priority.
"The fairs are a critical state asset that must be properly maintained and preserved, especially in the event of a fire threat," said Assemblymember Marc Levine (D-San Rafael), who signed the letter. "We need to act this year to restore funding in order to preserve this valuable resource for firefighters, police, paramedics and communities throughout California."
To arrange an interview with fair officials in your community and learn more about the role of the fairs in an emergency, contact Ashley Clark at ashley(at)allenstrategic(dot)com.
About the Western Fairs Association – The Western Fairs Association (WFA) builds better fairs by presenting the very best business partners to fairs for services, supplies, concessions, entertainment and commercial exhibitors. Founded in 1922 and incorporated in 1945, WFA is a nonprofit trade association serving the fair industry throughout the western United States and Canada. WFA assists in maintaining the highest professional standards within the fair industry through a voluntary network of individuals and organizations and promotes the prosperity of fairs through educational activities, training programs and legislative advocacy Currently WFA serves more than 800 members, representing fair-related businesses, fair management, fair-board directors, festivals and industry associations. This membership is represented by a 21-member elected board of directors that governs WFA activities and policies.