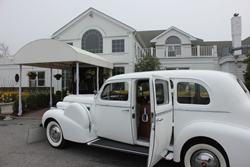 Bellport, NY (PRWEB) May 13, 2014
Bellport Country Club congratulates the winners of Party 105.3's annual free wedding give-away, sponsored by the station and local vendors.
Bellport Country Club recently held its final showcase for the 7th annual "Hitched on the House" contest produced by radio station Party 105.3. Every year the station sponsors an all-expenses-paid wedding in collaboration with local vendors; Bellport Country Club was the sponsoring host for this year's contest.
Located in the timeless village of Bellport on Long Island's south shore, Bellport Country Club is an award-winning wedding venue offering comprehensive wedding planning services, as well as a renowned catering facility and restaurant manned by a talented team of culinary experts.
After the close of the contest, all entrants were invited to attend a deluxe wedding showcase held at Bellport Country Club. According to owner-operator Robert Stapleton, close to 200 engaged couples entered the contest, and over 100 couples attended the showcase. Fiancés Amber Speed and Dan Steiger of Huntington were the winners of this year's contest.
Steiger, a member of the National Guard, says the wedding will take place in early 2015. "Dan and Amber are very excited," said Stapleton. "They're coming in next week to begin arranging the details for their wedding."
Party 105 recruited an additional 20 sponsoring vendors for this year's contest, including Sir Oliver Limousine of Ronkonkoma, Enrico's Jewerly, Photos of the Heart.com, Ada video studio, Exit Realty and Pur Salon and Day Spa.
About Bellport Country Club:
Not your typical catering hall, the Bellport Country Club is an owner-operated, full-service restaurant and catering facility. Bellport Country Club's experienced staff are acclaimed for their start-to-finish wedding hosting and planning services. The Club was recently awarded WeddingWire's 2014 Couples' Choices Award in multiple categories and The Knot's "Best of Weddings 2014" in the Venues category and LI Weddings.com "Best of Weddings for 2014."
With an owner on-site seven days a week, Bellport Country Club looks to build a lasting relationship with all of its guests. Whether you want an elegant seven-course meal or a casual buffet, Bellport Country Club's team of culinary experts is ready to design and prepare a menu that showcases the freshest local ingredients.