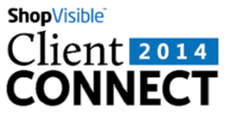 Client Connect 2014 was bigger and more impactful than ever before, and our Excellence in Online Commerce Award-winning client sites are the perfect demonstration of on-going eCommerce innovation.
Atlanta, GA (PRWEB) May 14, 2014
As ShopVisible concludes its fourth annual Client Connect conference, the company announces its Excellence in Online Commerce (EOC) Award recipients, which were given for Best Site Design, B2B Experience and Omnichannel Experience. Liberty Hardware, POS World and West Music, all hosted on the ShopVisible platform, were each recognized for distinct design and innovative functionality to provide the best online experience.
The award for "Best Site Design" was given to Liberty Hardware, a North Carolina-based hardware seller who launched the first phase of its site with ShopVisible in February 2014. The site, libertyhardware.com, is built to be a showcase for the companies' products exhibiting its superior style & design competencies. It provides optimal product search functionality allowing users to browse by style, product and finish, offering a "personal" search experience. Final stages of the website will roll out over the next few months.
POS World, the Georgia-based point-of-sale and barcode superstore, won the "Best B2B Experience" category largely due to its easy navigation, a necessary feature among B2B ecommerce sites. At posworld.com, the company's B2B customers have the ability to search by product, brand or industry to quickly drive them to products most suitable for their needs. Further, the site features bundled products for easier purchase and detailed product information such as specifications, reviews, downloads, accessories and product numbers. In addition, POS World utilizes ShopVisible's order management capabilities to determine the most efficient shipping option for each individual order using dynamic scoring system.
One of the largest music sellers and distributors in the United States, Iowa-based West Music, was awarded "Best Omnichannel Experience." From an omnichannel perspective, westmusic.com provides store inventory visibility on its website to help drive in-store traffic. Customers have the options of ordering online with in-store pick up or shipment delivery to their home. For West Music's brick and mortal store customers in Iowa and Illinois, the "In Our Stores" section provides a graceful way to give local customers the visibility to make purchases from the website or store, updated news and events, and other local services such as lessons and repair. Interface, menus and drop downs are touch-friendly, designed for the increasing volume of mobile and tablet traffic.
"Client Connect 2014 was bigger and more impactful than ever before, and our Excellence in Online Commerce Award-winning client sites are the perfect demonstration of on-going eCommerce innovation," said Sean Cook, CEO of ShopVisible. "It never ceases to amaze us how beautifully our clients' sites look combining form and function when customer-centric enhancements such as touch-friendly interfaces and navigation techniques are utilized. We're very proud of Liberty Hardware, POS World and West Music's sites and look forward to continuing to release innovative technologies to help these and all of our clients provide the best buying experience for their customers."
###
About ShopVisible
ShopVisible is an end-to-end SaaS commerce platform that powers the shopping experiences of today. Whether your customer is an individual consumer or a business, we power the commerce sites that enable them to buy from you. Reach your customers online, on their mobile devices or through popular channels like Amazon and eBay. ShopVisible also enables your back office management including orders, inventory, channel, content management and more. With our APIs, the ShopVisible commerce platform is extensible and easily integrates to 3rd party systems such as fulfillment, ERP, PIM, and other platforms that are core to your business. ShopVisible helps brands and businesses to attract and retain the new connected customer and is the chosen platform for companies like 3M, London Fog, Tempur-Pedic, Office Depot Canada, Plow & Hearth and MovieMars. Learn more at ShopVisible.com and by following @ShopVisible.