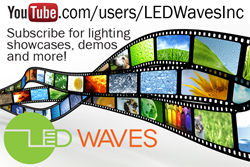 As both supplier and manufacturer of these LED lights, it falls solely on LED Waves to present this information to lighting professionals and end users alike – in plain language anyone can understand.
(PRWEB) May 14, 2014
Brooklyn-based LED lighting supplier and manufacturer LED Waves has added video to their media outlets as part of ongoing efforts to raise awareness about their energy-efficient lighting technology. The company's YouTube channel launched this week with eight videos, each showcasing a different product available exclusively from LED Waves.
This first crop of videos emphasizes selections from LED Waves' line of LED lights made in the USA. This includes the Midtown™ LED Recessed Light, the California™ MR16 LED Light Bulb, a four-foot fluorescent T8 replacement, and their full range of Owl Pack™ outdoor LED flood lights.
As a small business that both manufactures and supplies these products, it falls solely on LED Waves to make this information available to professional lighting specifiers and end users alike – using plain language anyone can understand.
While each video can be viewed on its related product page at LEDWaves.com, the company's YouTube channel (https://www.youtube.com/user/LEDWaves) opens up new social means of communication. There, viewers can engage with LED Waves, providing feedback and asking technical questions on LED lighting in the comments section.
The company plans to add more resources to the LED Waves YouTube channel, including step by step installation videos for their retrofit luminaires, an overview of the company's history and OEM capabilities, and even more product showcases as they grow their line of American-made LED lights.