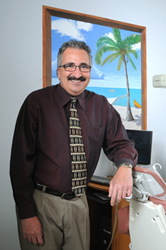 Newton, CT (PRWEB) May 13, 2014
During Stroke Awareness Month in May, people with periodontal disease can make a commitment to better health by visiting Dr. Richard Amato for gum surgery in Newtown, CT and the surrounding towns on Danbury, Bethel and Monroe, CT. Many people may not realize that poor oral health can have effects throughout the body and raise the risk of various serious health problems, including stroke. By seeking gum disease treatment, patients of Dr. Amato can eliminate what research shows is a serious risk factor for stroke.
The connection between gum disease and stroke is surprising but clearly established. According to the American Stroke Association, people with advanced gum disease are 4.3 times more likely to suffer a stroke than those who do not have this condition. One study indicates that gum disease is a more significant risk factor for stroke than diabetes, and it is almost comparable to hypertension, which is a leading stroke risk factor. The exact reason for this relationship is not known, but researchers have a few theories. Since gum disease allows harmful bacteria to enter the bloodstream from the mouth, it can cause inflammation. Research suggests chronic inflammation may contribute to heart disease and stroke. People who seek gum disease treatment sooner rather than later can stop inflammation and lower the associated risks.
According to the Centers for Disease Control and Prevention, stroke is the fourth most common cause of death in the United States. Annually, strokes claim 800,000 lives. People who survive strokes may still experience significant complications, including paralysis, loss of sensation, impaired coordination, and difficulty speaking and communicating. Considering how common stroke is and how devastating its effects can be, it is prudent for people to eliminate as many risk factors for the condition as possible. Receiving gum disease treatment is one easy way to do this.
Dr. Amato now offers various treatments for periodontal disease, from conventional gum surgery to minimally invasive laser surgery. People who would like more information on the procedures performed at his Monroe, CT office or on the health risks of gum disease are welcome to visit Dr. Amato's website. Patients who need to schedule a consultation for gum surgery in the Newtown, CT area including Southbury, Oxford and Shelton, CT are encouraged to call Dr. Amato's office today.
About the Doctor
Dr. Richard Amato is a Periodontist and Dental Implant Specialist who provides the most advanced technology for his patients in Monroe, Connecticut. He has placed thousands of dental implants since 1989. Dr. Amato graduated first in his class with a DDS degree from Stony Brook University. Dr. Amato then completed a full time multi-year specialty residency and received his Certificate of Proficiency in Periodontics from Eastman Dental Center at the University of Rochester. He is part of one percent of dental professionals in the USA providing the Laser Assisted New Attachment Procedure (LANAP®) FDA cleared laser procedure for gum disease treatment. Dr. Amato is the first and most experienced dentist to provide LANAP® therapy in Fairfield County Connecticut. To learn more about Dr. Amato and his dental services, visit his website at http://www.connecticutperiodontist.com and call (203) 712-0917.