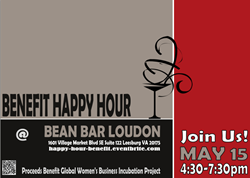 This project has the potential to impact thousands of women by increasing financial security and economic stability for themselves, their families, and communities
Leesburg, VA (PRWEB) May 14, 2014
This Thursday, May 15, 2014, Bean Bar Loudoun will be hosting a happy hour event for the local business community to help raise funds for a Global Women's Business Incubation Project being initiated by the President of Social Media Maxima, Inc. Andrea Howard. Bean Bar owner, Sonia Gupta, has generously offered 10% of the proceeds for the entire day to go to this powerful initiative. Both businesses are expecting a good turnout of professionals interested in networking, as well as nearby residents looking to in spend quality time with their friends while supporting local businesses and a great cause.
The event will go from 4:30pm - 7:30pm and include some fantastic door prizes and raffle items. For example, vacation stays, boat trips, jewelry, and gift baskets. The Bean Bar is planning a unique menu of select organic appetizers and drink specials. Since they only serve Virginia wine, participants who enjoy wine will also be supporting the burgeoning wine industry in this area.
The recipient of the funds raised at the event will go to the development of a Global Women's Business Incubation Project. Together with AfricAid, Andrea Howard, of Social Media Maxima, is launching a program to leverage the existing resources for women in Tanzania to become successful entrepreneurs. Though there are not the level of business development services in many developing nations that we enjoy in this country, the students and clients of programs offered through AfricAid have the education and training to become successful business owners with the help of advanced mentoring. Andrea Howard has this to say about the initiative, "This project has the potential to impact thousands of women by increasing financial security and economic stability for themselves, their families, and communities".
Ms. Howard started Social Media Maxima, Inc. almost five years ago and it has been successful with the help of business incubation programs, mentoring, and support from the business community. Programs in this country, like those offered at the local Small Business Development Center (SBDC) are either free or low cost to individuals requiring no more than an viable idea and a lot of persistence. Hundreds and thousands of people are supported in their mission to become successful entrepreneurs through these resources every year. The intent of the project is to share some of these resources with women in countries where the level of support is not sufficient to cultivate success.
In addition to launching the business incubation project, Andrea Howard is also running her own successful business, Social Media Maxims, Inc. For nearly five years, Social Media Maxima has been helping small business owners maintain their profiles on social media sites like Facebook, Twitter, Linkedin, Pinterest. They offer affordable custom web design and development to ensure a comprehensive quality digital presence for business. They also write and post blogs, press releases, and email distributions.