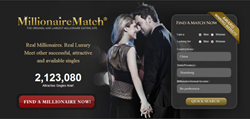 Los Angeles (PRWEB) May 19, 2014
MillionaireMatch, one of the top online dating web-sites in the world, completed a questionnaire which showed that in recent years the number of young luxury buyers have been increasing fast.
The public perception of traditional minds has the belief that people who buy luxuries should be over 30 year old rich men or women, but MillionaireMatch information show luxury clients are getting younger and younger. Data shows that within the last 5 years, young clients occupied 15.72% of U.S residents, but now it has increased to 35.64%. About 20% of young clients have increased in recent years.
MillionaireMatch.com conducted a questionnaire for their members – how old were you after obtaining your initial luxury and what was it? According to the statistics from this questionnaire, it showed those who obtained their initial luxuries were under 30 years old. These young luxury buyers consisted of 40.39% of the questionnaires sample and their initial luxuries chiefly were luxury garments, jewelery and luggage. 12% of these buyers bought first homes or luxury cars while they were still under 28 years old.
These young clients (under 30 years old) mainly focus on luxury clothes and shoe purchases. These transactions takes up 38.36% of luxury purchases. However, the fastest increasing market among young people is luxury cars and real estate. This sector of luxury purchases has increased by about 4% from 21.73% in 2012 to 25.66% in 2013.