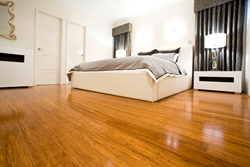 (PRWEB) May 14, 2014
BambooIndustry.com, the world's leader in bamboo flooring, has recently released its new natural bamboo flooring. Now, the company is announcing big discounts on these new models. According to the company's website, the promotion is valid until June 20, 2014.
The new natural bamboo flooring is featured with trendy designs, gorgeous looks and delicate craftsmanship. Its color can be characterized with very light toned color stains, giving the bamboo flooring a natural and earthy look of botanical bamboo. According to the CEO of the company, bamboo is unique, beautiful, and a great alternative to other hardwoods. Natural bamboo flooring is most popular bamboo flooring in the market.
"We take pride in providing high quality natural bamboo flooring to the global customers, and now, they can enjoy the top quality and price discounts we provide. Our staff is certified and insured to ensure buyers can receive the most professionally made products. We check and double check quality, from sourcing to shipment," says, the CEO of BambooIndustry.com.
A customer said, "I love BambooIndustry.com, and I love its designs. The company is always updating its website with its newest products and designs, and its staff is kind enough to answer any question from a customer. Online inquiries will be responded within 24 hours here."
About BambooIndustry.com
BambooIndustry.com is a website that belongs to BothBest Bamboo Flooring Co. Ltd., a professional supplier and exporter of bamboo products. Certified by both ISO9001:2008 and ISO14001:2004, the company has 8 years of experience in the manufacturing and wholesale of bamboo flooring products. It strives to bring its customers the latest styles and innovations of bamboo flooring, bamboo paneling, bamboo plywoods, bamboo furniture, and other bamboo products.
More information about the business and its bamboo flooring products can be found at http://www.bambooindustry.com/bamboo-flooring/solid-horizontal-natural.html.