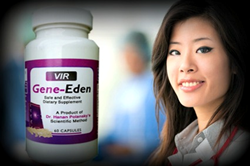 We recommend that individuals that wish to reduce the number of latent herpesviruses in their bodies take Gene-Eden-VIR or Novirin. - Mike Evans, polyDNA
Rochester, NY (PRWEB) May 18, 2014
In polyDNA's latest survey, 46% of respondents wanted to know if infections with both the herpes simplex virus (HSV) and the virus that causes Shingles (VZV) are possible. This is called a co-infection, and the answer is yes. "Human trigeminal ganglia (nerve cell clusters) are known to frequently harbor both viruses, and there is evidence to suggest the presence of both VZV and HSV1 DNA in the same neuron (nerve cell)." (See the Journal of Virology, from May 2014) (1). polyDNA recommends that people concerned about an infection with both herpes and VZV talk to their doctors about Gene-Eden-VIR and Novirin. The formula of these natural antiviral products was designed to help the immune system target latent viruses, and was proven safe and effective in post-marketing studies that followed FDA guidelines.
Herpes and Shingles are different diseases. Each is caused by a different virus, with different symptoms, and each is transmitted in a different way. Herpes and Herpes Zoster sound similar because the viruses that cause both diseases are members of the same herpesvirus family. "HSV-1 and HSV-2 cause herpes, whereas the varicella-zoster virus typically causes chickenpox in children and shingles later in life." (See Lef.org) (2). "Both herpes and shingles are very common: as many as 90% of the people in the United States have been exposed to HSV-1, and the CDC estimates that 32% of Americans will develop shingles at some point in their lifetime (2)."
Both of these viruses can establish latent infections in an individual. This means that after the initial infection, the virus starts replicating and shedding, causing recognizable symptoms. It then, hides away deep in the body. In this state, called latency, it continues to produce proteins and viral DNA at low levels, unlike the active phase.
Many scientists and doctors believe that latent viruses can only cause disease if reactivated. Reactivation means that the virus begins to produce all of its proteins and make copies of itself on a large scale. In contrast, Dr. Polansky's Theory of Microcompetition says that viruses can cause disease while still latent, that is, without being active, or being reactivated.
Some scientists wrongly believe that if a virus is latent, then it is harmless. A latent virus is not dead. It continues to express some of its proteins, and therefore to microcompete with human genes.
Consider the paper entitled "Human Cytomegalovirus Persistence" published February 13, 2012 in the journal, Cellular Microbiology (3). HCMV is another herpesvirus that can establish latency, just like HSV and VZV. "Both the chronic and latent states of infection contribute to HCMV persistence and to the high HCMV seroprevalence worldwide. The chronic infection is poorly defined molecularly, but clinically manifests as low-level virus shedding over extended periods of time and often in the absence of symptoms (3)."
The Theory of Microcompetition, as put forward by Dr. Hanan Polansky in his highly acclaimed book entitled "Microcompetition with Foreign DNA and the Origin of Chronic Disease," explains how latent viruses such as herpes and the varicella zoster virus can cause many major diseases.
"We recommend that individuals that wish to reduce the number of latent herpesviruses in their bodies take Gene-Eden-VIR or Novirin. The formula for these natural antiviral products was proven to reduce herpes symptoms in a post-marketing study that followed FDA guidelines." – Mike Evans, polyDNA
Novirin shares the same formula as Gene-Eden-VIR. The difference between the two is that Novirin has higher quality, more expensive ingredients. The Novirin/Gene-Eden-VIR formula was tested in two post-marketing clinical studies published in September 2013 and March 2014, respectively, in the peer reviewed medical journal Pharmacy & Pharmacology. However, Novirin contains higher quality, more expensive ingredients.
These ingredients were selected to fight latent viruses even more effectively than Gene-Eden-VIR.
Interested individuals can view the two published studies here, http://cbcd.net/Gene-Eden-VIR-Clinical-Study.php and http://cbcd.net/Gene-Eden-VIR-Decreases-Fatigue-Clinical-Study.php.
In a post marketing clinical study published on August 12, 2013 in the medical journal Pharmacology & Pharmacy in a special edition on Advances in Antiviral Drugs, researchers showed that the product that delivered the Novirin/Gene-Eden-VIR formula is safe and effective (4).
Additionally, up to 70% of those studied reported a decrease in symptoms associated with a latent viral infection, and users of the Novirin/Gene-Eden-VIR formula experienced an increase in overall health (4).
Each ingredient of Novirin was chosen through a scientific approach. Scientists scanned thousands of scientific and medical papers published in various medical and scientific journals around the world to identify the highest quality, safest, most effective natural ingredients that target latent viruses.
A second clinical study showed that the Novirin/Gene-Eden-VIR formula decreased physical and mental fatigue. (See Pharmacology & Pharmacy, from March, 2014) (5).
Individuals can learn more about Novirin at http://www.novirin.com. All orders of Novirin are completely confidential, and no information is shared or sold to any third party. Privacy is assured.
People can learn more about Dr. Polansky and the Theory of Microcompetition by visiting http://www.cbcd.net.
References:
(1) Varicella-Zoster Virus and Herpes Simplex Virus 1 Can Infect and Replicate in the Same Neurons whether Co- or Superinfected. Published in May 2014.
http://www.ncbi.nlm.nih.gov/pubmed/24574392
(2) LEF.org - Health Concerns - Herpes and Shingles
http://www.lef.org/protocols/infections/herpes_shingles_01.htm
(3) Human cytomegalovirus persistence. Published in May 2014.
http://www.ncbi.nlm.nih.gov/pubmed/22329758
(4) Gene-Eden-VIR Is Antiviral: Results of a Post Marketing Clinical Study. Published in September 2013.
http://www.scirp.org/journal/PaperInformation.aspx?PaperID=36101#.U056hVWSz90
(5) Eden-VIR Decreased Physical and Mental Fatigue in a Post Marketing Clinical Study That Followed FDA Guidelines; Results Support Microcompetition Theory. Published in March 2014.
http://www.scirp.org/journal/PaperInformation.aspx?PaperID=44234#.U056t1WSz90
polyDNA is a biotechnology company that develops dietary supplements using the unique scientific method developed by Dr. Hanan Polansky, which is based on Computer Intuition.
In addition to his unique scientific method, Dr. Polansky published the highly acclaimed scientific discovery, called Microcompetition with Foreign DNA. The discovery explains how foreign DNA fragments, and specifically, DNA of latent viruses, cause most major diseases.
polyDNA developed Novirin, an antiviral natural remedy that helps the immune system kill latent viruses.