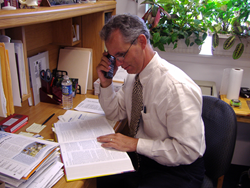 Cold Laser Therapy may be the answer for you in Frederick.
Frederick, MD (PRWEB) May 16, 2014
Cold lasers are becoming more popular as a treatment option for a number of different conditions. They offer patients a non-invasive treatment option for painful conditions including knee pain, shoulder pain and more. Recently chiropractor Steven Digles added this service into his clinic to help patients in the Frederick and surrounding areas.
When contacted at his office Doctor Steven Digles said, "Though we have successfully used cold laser for over 13 years for knee pain, carpel tunnel syndrome, frozen shoulder, arthritis, and plantar fasciitis we now offer one of the most effective Cold Lasers available. More power, deeper penetration and dispersed rays give our patients faster treatment times, faster and longer lasting relief and recovery and an added measure of safety."
He went on to say, "When you hurt, there is generally something wrong with how your tissues work (muscles, tendons, cartilage, nerves , etc. ). Every tissue in your body is made of very small cells. An injured tissue is nothing more than cells not working and struggling to recover. It has been discovered that light at specific frequencies can stimulate your cells to work better. It is kind of like putting a jumper cable on a car that has a low battery…the energy boost gets the car going again. The light energy from the laser gets your cells going again. The patient feels about the equivalent of a flashlight during treatment. The results are very fast. Treatment times are in the minutes. There are no side effects. And best of all patients get relief because their injured tissues are restored vs. chemically masking the pain with a drug."
Finally Doctor Digles said, "In our office we offer you the latest of this technology as well as over a decade of clinical experience. If we determine Cold Laser will benefit a patient after consultation and exam, cost are very reasonable and can be determined up front before any treatment begins."
As the positive research continues to come in, Therapeutic Cold Laser is being used by physical therapists, chiropractors, plastic surgeons, dentists and the veterinary profession to speed the healing of sprains and strains, tendinitis, wounds and other chronic conditions that are stubborn to respond to any other care.
Though Therapeutic Cold Laser has been around for decades, in the past, this type of treatment was most commonly used by professional and elite athletes by a small percentage of the health care community. With the developing technology, continuing positive research, costs, treatment times and safety, cold laser is fast becoming accepted as one of the most efficient and effective forms of healing available.
To learn more about the cold laser services offered by Doctor Digles at New Life Chiropractic Center please visit their website at: http://www.chiropractor-frederick-md.com.