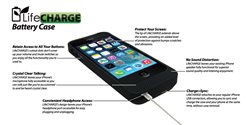 Dallas, TX (PRWEB) May 15, 2014
After spending hundreds of dollars on a smartphone, the last thing consumers want is a faulty product. But many iPhone 5/5S owners have found themselves in just such a predicament with a non-functioning on-off button. Until they can get their phone back to Apple for a fix, LifeCHARGE offers a workaround solution to the problem. The company's new iPhone 5/5S battery case keeps both models charged on the go, even when they can't be turned off to save power.
Yahoo! News (https://www.yahoo.com/tech/apple-offers-to-fix-broken-power-buttons-on-iphone-5-84125102924.html) recently ran an article stating that Apple had offered to fix broken power buttons on iPhone 5 models. This design flaw specifically affects the on-off button on some older iPhone 5s and 5Ss. Apple admitted that some of its smartphones "manufactured through March 2013 may have on-off buttons that stop working or work intermittently."
As if the standard battery drain on the iPhone 5 isn't bad enough, the inability to turn the phone off can really do a number on the power level. Until their phones are fixed, LifeCHARGE offers a way to circumvent the issue. Its new iPhone 5/5S battery case offers a portable way to keep the phone charged. While the case's charging capabilities are especially useful for an iPhone that won't turn off, even when the problem is rectified, iPhone 5 owners will enjoy up to double the battery power they are accustomed to.
For more information about how a LifeCHARGE iPhone 5/5S battery case can provide a workaround solution to a faulty power button, contact OnTrion's Palki Kochar. To learn more about the battery case, visit the manufacturer on the web at http://www.mylifecharge.com.
###
CONTACT INFORMATION:
13650, TI Blvd., Suite #309
Dallas, TX 75243
(877)676-0877