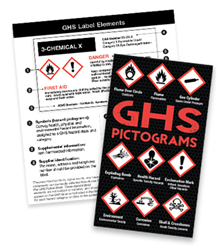 "After learning about GHS and the importance of labeling chemicals with global and harmonized symbols and data information, we are confident our employees are safe when handling and transporting such chemicals."
Lake Oswego, OR (PRWEB) May 16, 2014
Properly labeling chemicals is the cornerstone to the new Globally Harmonized System of classification and labeling of chemicals. GHS is the new standard, but many people are not yet familiar with the label layout and hazard pictograms. Creative Safety Supply is now offering a pocket labeling guide that will provide a visual resource for each part of the new GHS Label and pictograms, along with their meaning. This guide can be posted on a wall or share with employees. It is a perfect tool for safety training seminars.
GHS is an acronym for The Globally Harmonized System of classification and labeling of Chemicals. It is a logical and comprehensive approach to defining health, physical, and environmental hazards of chemicals, creating classification processes that use available data on chemicals for comparison with the defined hazard criteria, and communicating hazard information, as well as protective measures, on labels and Safety Data Sheets (SDS).
Most manufacturing companies work with chemicals to manufacture their products, maintain equipment, and for general janitorial purposes. For the safety of employees, these chemicals must be labeled properly with familiar and unified symbols and data to communicate health and safety information that is recognizable globally. Many benefits are derived by using the GHS system such as promoting regulatory efficiency, facilitating trade, easing compliance, reducing costs, providing improved, consistent hazard information, encouraging safe transport when handling and use of chemicals, promoting better emergency response to chemical incidents, and reducing the need for animal testing.
A business owner commented, "After learning about GHS and the importance of labeling chemicals with global and harmonized symbols and data information, we are confident our employees are safe when handling and transporting such chemicals."
For more information about the pocket guide to GHS Labeling and Pictograms, contact Creative Safety Supply at http://www.creativesafetysupply.com or call toll-free (866)777-1360 to speak with a professional representative.