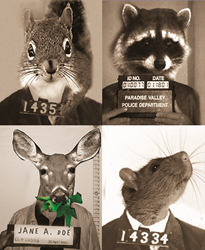 Chicago, IL (PRWEB) May 16, 2014
May is arguably the best month for gardeners, as seeds sprout and flowers flourish. But all that hard work – hours of manual labor and hundreds of dollars spent on plants, seeds, fertilizer, and landscaping décor – often results in a very pretty buffet for common yard pests. Bird-X has some proven tips to help humanely keep these unwanted visitors out for good without disrupting the peaceful nature of the beloved home garden.
The most common garden pests who can do the most damage are squirrels, chipmunks, raccoons, wild rabbits, deer, skunks, rats, mice, and the neighbor's cat who uses fresh earth as a litter box. For these pests, the Yard Gard – an inexpensive, easy to use electronic ultrasonic device that covers up to 4,000 square feet – is a green, humane way to keep pest mammals out of the garden. Furthermore its sound waves are blocked by home walls, so indoor pets are not affected.
Other common garden pests are, of course, birds – commonly found feasting on cherries, tomatoes, apples, and berries just as they ripen, much to the gardener's dismay. Birds can also carry dozens of transmissible diseases as well as mites, ticks, and other parasites, as well as deface areas (such as cars) with their droppings. For birds, another ultrasonic (silent-to-most-humans) device may be used – the Balcony Gard. This device covers up to 900 sq. ft. and was made for small areas such as patios, decks, balconies, and small garden spaces. It repels any bird since its sound waves are not discriminate toward species, so common garden pests such as sparrows, starlings, blackbirds and many others will find themselves irritated by the silent-to-us sounds and flee the area. Since this device covers a small area, it can be placed away from areas birds are welcomed – such as near bird houses and feeders.
Electronic devices won't hurt outdoor animals the way many home remedies and poisons can. For example, home-mixed garlic sprays are popular, but are highly toxic to both dogs and cats and can cause kidney damage if consumed, which can easily happen if the animal walks across the spray and later cleans themselves. Kidney damage is irreversible and often results in premature death. Live traps work, however the animal must be found and released very quickly considering they will be without food or water while trapped, and relocation can separate a parent animal from their babies, as well as any community structure they may reply upon for protection against predators. Traditional snap, glue, chemical, and poison traps can be toxic and very dangerous, pollute the environment, and take away from the pleasant atmosphere gardens provide.
Both the Yard Gard and the Balcony Gard are completely humane, green, safe for use around children and pets, and are highly effective. Both allow the user to easily adjust the intensity and variability of the ultrasonic sound waves, allowing the user to keep the device on with either the built-in motion detector, or by leaving it on constantly for continuous protection. The volume may be adjusted to best fit the range and type of pests (Yard Gard clearly defines these pests by species, while Balcony Gard may be adjusted by the size of birds and space to be repelled). Ultrasonic sound waves are a constant irritant to pests, as the high-pitched noises they emit upset the pest animals' central nervous systems, causing them mild discomfort – harmless, but enough to get them out of the treated area.
There is no magic "off" button for pests, but sound units are powerful tools with years of study and proven effectiveness that go a very long way. The trick is to remember these pest animals are creatures of habit. Wherever food and safe shelter can be found, which home gardens provide, animals will want to move in. Using this psychology against them and making the area as unwelcoming as possible, these animals will seek out other, less threatening sources of food and shelter.
Bird-X, Inc. is the leading brand of humane pest bird control worldwide since 1964, and is dedicated to protecting human health, wildlife and the environment in which we all live. The Chicago-based company manufactures a complete line of unique pest control products with an unmatched focus on quality, efficacy, and customer service.