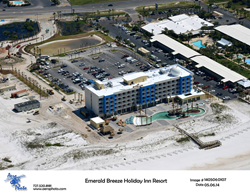 Innisfree Hotels already has made a $1 million initial payment to the Air Force, which will be used to improve Eglin's living quarters and recreational facilities. MacQueen says, 'This has been one of the more gratifying aspects of this development.'
Pensacola, FL (PRWEB) May 14, 2014
Innisfree Hotels is pleased to announce the opening of the beachfront Holiday Inn Resort on Fort Walton Beach, FL.
Located at 1299 Miracle Strip Parkway SE, the best new family resort on the Gulf Coast offers beachfront event space and the finest pool in the area, just minutes from local restaurants, attractions and upscale shopping. "We are thrilled to be opening this hotel after six years of working on the project," said Rich Chism, Director of Development for Innisfree Hotels. "The best part of my job is watching children's faces light up when they enter the lobby and realize this is their hotel. We strive to deliver a 'wow' factor and help families create memories together."
Indeed, creating memories is the Innisfree mission, and this new resort – the only one of its kind between Pensacola and Panama City – will be no exception. Between the pool's lazy river, hot tub and waterfall; family suites with private balconies overlooking the ocean; supervised children's activities including interactive mermaid and pirate shows; 24-hour fitness and business centers; and 2,500 sq. ft. of special event space, and many other resort amenities provide ample opportunities for memories in the making.
The 17-acre tract of land the hotel was built on was previously home to a 1,200 sq. ft. cinder block building equipped with a receiver for tracking Air Force maneuvers along the coast. Julian MacQueen, Innisfree's Founder and CEO says, "By far the biggest challenge in developing this site was negotiating the Enhanced Use Lease (EUL) with the United States Air Force. Because it marks the first public-private lease of Air Force land, the process extended over four years. The concept was born of the idea that the Air Force could generate revenue on underutilized land that maintained a strategic purpose for our military."
Innisfree negotiated an innovative design, which would allow the receiver to remain in use from a new perch atop the resort. So when you visit the Holiday Inn Resort and you spy a giant, whimsical beach ball on the roof, you are actually looking at the Air Force receiver. Part of our negotiations require the hotel to give a 50 percent discount off the per diem rate for military personnel. Therefore, Innisfree has set aside 4,000 room nights each year for military servicemen and women to enjoy a first-class resort experience that may otherwise be out of reach.
In addition to this benefit, the resort will pay a percentage of all revenue to the Air Force designated exclusively to capital Improvements to boost morale and welfare on Eglin Air Force Base. In advance of the percentage rent, Innisfree Hotels already has made a $1 million initial payment to the Air Force, which will be used to improve Eglin's living quarters and recreational facilities. MacQueen says, "This has been one of the more gratifying aspects of this development."
The new Holiday Inn Resort was developed by Innisfree Hotels with General Contractor dck north america, with dramatic architectural design by Larry Adams of Bullock Tice Associates in Pensacola, FL Debbie Adrian of ACC Design in Memphis, TN created the bold and colorful interiors, while Chad Watkins of WAS Design in Foley, AL was the mastermind of the lazy river and pool deck.
Innisfree is grateful for a capital investment from the Poarch Band of Creek Indians, building upon a longstanding partnership and joint commitment to the community. Financing was provided by Navy Federal Credit Union and Pen Air Federal Credit Union who both enjoy strong ties to the military members they serve.
The beachfront resort is centrally located to popular restaurants, shops and attractions including the Gulfarium Marine Adventure Park, Big Kahuna's Water Park and Destin Commons, yet its close proximity to Eglin Air Force Base and Hurlburt Field and is likewise significant. The project was made possible via the United States Air Forces Enhanced Use Lease (EUL) program, under which Emerald Breeze Resort Group (EBRG) leases the 17-acre tract and pays the USAF a percentage of gross sales. These funds, in turn, are allocated to improve the morale and welfare of local airmen.
"I grew up spending my summers in this area and always believed that the USAF had the best piece of property on the Gulf Coast," says MacQueen. "We were proud to be selected as the company to maximize its potential for the public while honoring those who have served our country."
The Holiday Inn Resort, Fort Walton Beach FL offers:

152 rooms
Family suites
Beachfront lazy river, swimming pool and waterfall
Indoor heated pool
Riptides Grill
Hot Tub
Supervised children's activities, game room and 'Dive Inn' movies
24-hour Fitness Center and Fitness Center
2,500 sq. ft. meeting space
Holiday Inn Resort Fort Walton Beach Leadership
Holiday Inn Resort Fort Walton Beach is under the leadership of General Manager, Keith Myers. In his role, Keith is directly responsible for managing the day-to-day operations of the hotel, including overseeing the hotel's associates and ensuring guests encounter the purposeful service for which Holiday Inn Resorts are known.
About Innisfree Hotels
For more than three decades Innisfree Hotels has expertly managed and developed dozens of hotels in partnership with many of the world's most recognized hotel brands. Today Innisfree owns or manages 2,400 hotel rooms, and has over 1,000 employees. Innisfree is a triple bottom line company, which means we measure our success not only in profits, but also through our impact on people and the planet. To these ends Innisfree strives to promote a culture of responsibility and service to humanity. Our value driven corporate culture enables us to have a deeper understanding of the needs of our guests, partners and clients, and thus deliver customer focused service. Our motto is "Having Fun" and our mission is "To create fun, memorable experiences for our guests, employees, and investors."
For more information contact Jill Thomas, Chief Marketing Officer, Innisfree Hotels (850) 393-8150.