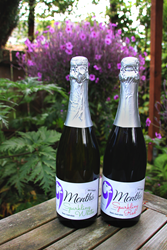 No Hesitation... Join the celebration!
North Carolina (PRWEB) May 15, 2014
9Months beverages are high quality non-alcoholic sparklings from grapes grown in southern Australia and produced in a family owned winery by some of the most skilled wine and juice makers in the world. 9Months comes in two delicious flavors, Sparkling Red and Sparkling White (NEW flavors coming soon!). 9Months Sparkling Red is a vibrant purple color, carrying a fresh bouquet and very refreshing taste. 9Months Sparkling White is a rich golden color – perfect for any champagne toast or warm summer day. They are also 100% natural with no added sugar, no artificial coloring or flavoring and are gluten free!
Packaged in 750ml bottles, 9Months sparklings are uniquely adorned with a full metallic hood and genuine cork and muselet to pop! They are the perfect baby shower gift and also great as gifts for pregnant friends, co-workers, clients, customers, etc. 9Months sparklings are excellent for weddings, receptions, barbecue's, festivities, holidays or any party atmosphere where those expecting want to feel part of the celebration.
For more information please visit the website at http://www.9monthslove.com.
About the Founder, Carrie Marvin - Living in North Carolina via Brooklyn, Philadelphia, Washington D.C., Los Angeles and Fairfax, Virginia, Carrie is a creative and spirited young gal who is always coming up with new and innovative ideas. 9Months became the lead item on her "short-list" of ideas and approximately two years later, the idea became reality. Carrie is a people-person by nature and is a master at creating connections and networks for those around her. She lives happily with her husband and dog, Mack.