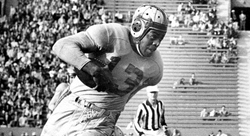 This year we are especially honored to induct Kenny Washington posthumously, into the AFA's Hall of Fame as a Pioneer.
Binghamton, NY (PRWEB) June 09, 2014
The American Football Association's Hall of Fame selection committee has completed its annual task of reviewing personal profiles of qualified individuals nominated for induction into the Semi-Pro/Minor League Football Hall of Fame as the "Class of 2014". Information submitted by HOF alumni and subsequent review by the selection committee resulted in the selection of 18 people for enshrinement this year.
This year, we are especially honored to induct Kenny Washington posthumously, into the Pioneer Category. Kenneth S. "Kingfish" Washington was born in Los Angeles, California, in 1918. He graduated from the University of California Los Angeles in 1939. At UCLA he teamed with Jackie Robinson and Woody Strode. In 1939 he led the nation in total offense to become the first UCLA player to be named an All-American. After he played in the College All-Star game in August 1940, George Halas asked him not to return to Los Angeles immediately because Halas wanted to sign him to a contract with the Chicago Bears. Kenney however went on to become the biggest star and most popular player in two minor professional leagues on the West Coast, playing for the Hollywood Bears of the Pacific Coast Pro Football League in 1940, 1941, and 1945 and for the San Francisco Clippers of the American Football League in 1944. In 1956, Washington was inducted into the National Football Foundation Hall of Fame, and his number 13 jersey was the first to be retired at UCLA. Kenny was one of the first Black players to sign a contract with the current manifestation of the NFL via the Los Angeles Rams.
"I heard a lot of tales about him, and I didn't believe it at first," his grandson, Kirk Washington, said. "But then you talk to people who saw him play and it was all true."
Click to view Kenny Washington, first African American in the NFL.
This year's group of AFA Hall of Famers will be enshrined as the "Class of 2014" during the AFA's 34th Annual Semi-Pro/Minor League Football Hall of Fame Induction Dinner at the Pro Football Hall of Fame, 2121 George Halas Drive NW, Canton, Ohio 44708. The induction dinner will be part of a 2-day event for the AFA National Association, which will run from Thursday, June 26th, thru Friday, June 27th. This is our third year at this venue and this year's event promises to be even better.
Events Scheduled:

Sports & Celebrity Memorabilia Auction
Annual AFA HoF Legends - meet the new inductees "Alumni Huddle Cocktail Party - 7pm Thursday, June 26th
Pro Football Hall of Fame Tours at your leisure
34th Annual AFA Semi Pro/Minor League Football Hall of Fame Induction Dinner - 7pm Dinner (Cocktails 6pm) Friday, June 27th.
The American Football Association is proud to present the names of those who will be enshrined into the AFA Semi-Pro/Minor League Football Hall of Fame as the "Class of 2014" (names in parentheses indicate sponsors of the new inductees):
Pioneer Category:
Kenny Washington - Los Angeles, CA (AFA BoD)
Executive Category:
Bob Gingras - Madison, WI (Jordon Kopac)
Alex Lawson - Springfield, IL (Brent Bordenkircher)
Officials Category:
Keith Doleman - Chambersburg, PA (Charles Brown)
Player Category:
Burt Skeel - Mayfield Heights, OH (John Tichy, Dennis McElligott, Paul Takach)
Eugene Larsen - Schiller Park, IL (Mike 'Chico' Cain, Larry Schmidt, Roman Strzala, Jerry Schropp)
Larry Salley - Gainesville, VA (Dave Bonsell, Steve Oldt)
Darrell McCatty - Chesterfield, VA (Hal Lockhart)
Steve Bailey - Feura Bush, NY (Mike Galeo)
Mike Myers - Albany, NY (Dave Fleck)
Pat Killorin - Baldwinsville, NY (George Ashcraft)
David Powell - Rising Fawn, GA (Skip Poole)
Doug Coleman - White Castle, LA (Charles Rambo Johnson)
Bryan Smith - Hollister, CA (Dave Clapham)
Jose Rodriguez - Hollister, CA (AFA Alumni)
Joe Hall Sr.- Amsterdam, NY (Tom Manny, Rick Sager)
Byron Allen - Lafayette, LA (Keith Ballard)
John Burns - Gurnee, IL (Thomas Hawkins)
The enshrinement of this year's class of 18 new hall of famers will see the association's 33-year total number of inductees expand from 691 members to 709 members. Since the inaugural enshrinement in 1981 (including the Class of 2013) the AFA has recognized 416 players; 103 coaches; 87 executives; 30 officials; 24 pioneers; 20 media/historians; 13 trainer/equipment men; 6 associated with youth football; 5 involved with international semi-pro; 4 from the women's level; and even 1 'super fan'.
Tickets are $100 each for the 2014 AFA Semi Pro/Minor League Football Hall of Fame Induction Dinner. If interested in ordering dinner tickets, please email amerfoot(at)aol(dot)com for an order form. The deadline for ticket orders is June 7th.
This year as part of our event fundraiser, we are soliciting sponsors and raffle items in advance. Sponsors and donors will be acknowledged during our live hall of fame internet broadcast, receive a listing in our souvenir program and will be posted on our event banner. Just click the form below to make a donation/become a sponsor.
AFA Hall of Fame Induction Sponsorship Form: http://www.americanfootballassn.com/forms/sponsorship-form.pdf.
2014 AFA Hall of Fame Induction Sponsor Listing - click here
2014 AFA Dinner Brochure - click here
AFA Hall of Fame Online Auction Fund Raiser - click here