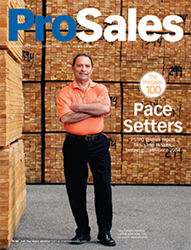 Nearly three quarters of this year's listed building supply firms posted sales gains in excess of 10 percent in 2013, and nearly half of the list grew by 20 percent or more.
Washington, DC (PRWEB) May 15, 2014
America's largest construction supply companies saw sales to construction and remodeling professionals rise 18.2 percent in 2013, according to the latest PROSALES 100 survey results released today by Hanley Wood. The ranking shows that listed companies expanded facilities by 2.9 percent and payrolls by 8.6 percent.
The PROSALES 100 is the premier report on construction supply companies, earning at least a third of their revenues from professional builders. Large operations catering primarily to retail customers—The Home Depot, Lowe's, and Menards—are excluded, allowing for an accurate assessment of the professional side of the lumber and building material (LBM) industry.
PROSALES 100 companies fit into three groups: traditional lumberyards that focus on selling wood and other building products; lumberyards that also have manufacturing operations, typically to build trusses and wall panels or put the final touches on door assemblies; and specialty dealers, which focus on selling a narrow variety of products, such as roofing or insulation.
The annual report, released today by Hanley Wood's PROSALES magazine, found that the top 100 companies sold a total of $35.14 billion in goods in 2013, up 18.2 percent from 2012. Ninety-five of the 100 companies posted sales increases, compared to 94 in 2012. Meanwhile, four companies suffered slight declines (ranging from 2 percent to 12 percent) in 2013, and only one company reported no change.
"The results of this year's PROSALES 100 survey demonstrate that the recovery has come to the LBM industry, with nearly three quarters of this year's listed companies posting sales gains in excess of 10 percent, and nearly half of the list growing by 20 percent or more," said Tim Regan, assistant editor of PROSALES and leader of the PROSALES 100 report.
The companies listed in the PROSALES 100 responded to growing demand for building products by opening a net 103 more facilities to push their total number of facilities to 3,674, a 2.9 percent increase over the previous year. They also expanded payrolls by 8.6 percent, bringing total industry employment to 74,985 in 2013, compared to 67,868 in 2012. The Top 10 dealers alone accounted for more than half of the increased employment, adding 3,872 jobs from the year before, for a 2013 total of 38,283 workers.
"Dealers built upon the steady gains of the year before to post the largest growth in sales year-to-year since 2004," said Steve Campbell, editor of PROSALES. "With the housing market well on the way to recovery, dealers are preparing for the increased demand by opening new yards, expanding operations, and hiring additional staff."
ABC Supply of Beloit, Wisconsin, maintained the top spot on the PROSALES 100 for a fourth consecutive year, with Denver-based ProBuild holding onto the number 2 position. Those two companies saw 7 percent and 19 percent growth in gross sales year over year, respectively. The next three spots also remained unchanged in the 2013 ranking: Beacon Roofing Supply of Herndon, Virginia, in third; Allied Building Products of East Rutherford, New Jersey, in fourth; 84 Lumber of Eighty Four, Pennsylvania, in fifth.
Dallas-based Builders FirstSource edged out L&W Supply—the distribution arm of Chicago-based USG Corp.—for sixth place. Rounding out the top 10 are BMC of Boise, Idaho, in eighth; Stock Building Supply of Raleigh, North Carolina, in ninth; and SRS Distribution of McKinney, Texas, in tenth place.
PROSALES magazine provides residential construction companies with information, insights and advice on improving sales and service. For more information on the magazine or PROSALES 100, visit prosalesmagazine.com and click on the tab near the top marked "PROSALES 100 & Companies".
About Hanley Wood
Hanley Wood is the premier information, media, event, and strategic marketing services company serving the residential, commercial design and construction industries. Utilizing the largest editorial- and analytics-driven construction market database, the company produces powerful market data and insights; award-winning publications, newsletters and websites; marquee trade shows and executive events; and strategic marketing solutions. To learn more, visit hanleywood.com.