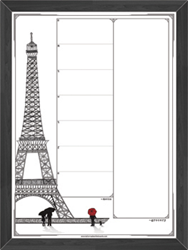 (PRWEB) May 19, 2014
Tailor Made Whiteboards is pleased to introduce our newest whiteboard design, "La Tour Eiffel." The design, created by Tailor Made's in-house artist Patti Stone, was inspired by the iconic iron latticework of the Paris landmark, art deco lines, and the classic rainy Paris weather. However, while "La Tour Eiffel" takes its inspiration from classic Paris, Ms. Stone made her original dry erase marker board print modern by staying with a chic black and white color palette, with just a pop of red from a bright umbrella, and incorporating a modern typeface.
"From the beginning, creating beautiful and original whiteboard designs for our customers was important to Tailor Made Whiteboards," says Becky Roche, Marketing Manager for Tailor Made Whiteboards. "We hope our customers love our new 'La Tour Eiffel' design, and as a company we will continue to produce new one-of-a-kind designs for our home organization products and our kid's dry erase boards."
"La Tour Eiffel" is available now in Tailor Made's whiteboard Calendar, Menu Planner, Chore Board and Free Form Board. As always, any whiteboard can be personalized with the customer's choice of frame – choose either a Fixed Frame or the company's revolutionary Quick Change frame, then choose your frame color – Black, White, Oak, Walnut or Maple. Customers can further personalize their dry erase board by adding a tray, or by adding a favorite photo.
To view all of Tailor Made Whiteboard's original designs, visit our website at http://www.tailormadewhiteboards.com.
###
Tailor Made Whiteboards makes high-quality custom dry erase boards to organize the activities of hectic households. The company's whiteboard Calendars, and Menu Planners can be personalized to match any home's unique décor, and can be easily changed and updated for many years of use without ever buying a new one. All the company's products are built in the USA and guaranteed to wipe clean and remain stain-free over many years of use. For more information call 1-888-280-9494 or visit http://www.tailormadewhiteboards.com.