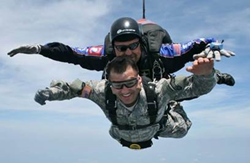 God bless America, and God bless the men and women who have served, and those who continue to serve our country.
Middletown, OH (PRWEB) May 16, 2014
The Armed Forces Day High Altitude Salute will take place at Middletown Regional Airport from 8:30am to 12pm on Saturday May 17th, 2014. Included in the festivities will be several tandem skydives with local recently returned warriors and an amazing aerial display by Team Fastrax. They will be performing their patriotic American flag skydive, with their 7,800 sq. ft., and two of their 1,100 sq. ft. flags. The 7,800 sq. ft. flag is currently the largest American Flag flown by a skydiver. The event will conclude with the singing of the National Anthem by award winning singer, Nathan Hart.
The event is free to the public, and is meant to raise awareness of the upcoming Ohio Challenge Hot Air Balloon Festival, to be held at the same location, July 11th-13th. The Ohio Challenge is being hosted in conjunction with the 4 day Warrior Weekend to Remember which is an exciting combination of activities meant to enrich the lives of up to 30 of our active duty and veteran men and women injured in combat or training. The Ohio Challenge Hot Air Balloon Festival will include skydiving demos by Team Fastrax, fireworks courtesy of Start Skydiving, a laser light show, evening balloon glows, live entertainment, a carnival, car show, and food and craft vendors.
John Hart, owner of Start Skydiving, and founder of Team Fastrax, said, "The Middletown Balloon Festival (Ohio Challenge) has been a great family friendly event since its start in 2003. This year's addition of the Warrior Weekend To Remember makes this event even more special to our team. Members of Team Fastrax have served the United States of America as part of the Armed Forces, many in combat. So, to be a part of an event so special, that will put a smile on the faces of so many of our wounded active duty and veteran armed forces members, is a great honor. God bless America, and God bless the men and women who have served, and those who continue to serve our country."
The Armed Forces Day High Altitude Salute registration will be between 7:30am and 8:30am. From 8:30am to 11:30am, the following warriors will be completing their Tandem Skydives: USA SPC Emma McLain, USMC CPL Sam Edmundson, USAF SRA Nicole Ramos, USAF SSgt Robert Gregory, USAF SSgt Chad Keever and USAF MSgt Jeremy Miller. They will be jumping with David Hart, Veteran US Army Ranger and Paul Stanford, Veteran USMC. The Team Fastrax performance will begin at 11:30am and will be followed by the singing of our National Anthem.
Team Fastrax is sponsored by Selection.com, a leading provider of criminal background checks and pre-employment screening services. They are the most ambitious professional skydiving team in the world. The team has a roster of more than twenty-nine active members, with a culmination of more than 300,000 skydives. Team Fastrax has performed exhibition skydives all over the world for audiences large and small as a patriotic display or as a product promotion.
For up to date information on the Ohio Challenge follow the plans at http://www.ohiochallenge.com or on Facebook and Twitter. Contact the event at 513-705-1770 or info (at) ohiochallenge (dot) com.
The address for this event is Middletown Regional Airport, Hook Field, 1711 Run Way, Middletown, OH, 45042.
For questions or for an interview, contact David Hart with Team Fastrax at 513-907-6805 or dhart (at) teamfasrax (dot) org.