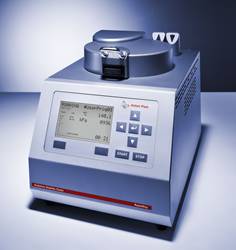 St Albans, UK (PRWEB UK) 27 May 2014
The RapidOxy is based on Anton Paar`s patented measuring principle of ASTM D7545, a well established method to test the oxidation stability of diesel, biodiesel and blends.
The sample is sealed into the test cell, pressurised with pure oxygen and heated. This initiates a very fast oxidation process. A defined pressure drop determines the end of the test. The test duration is directly related to the oxidation stability of the sample.
Easy sample handling
RapidOxy works directly on the whole sample, making preliminary sample preparation unnecessary.
It requires only small sample volumes, typically between 5 mL and 10 mL. Solid samples and semi-solid samples are just put into a reusable PTFE dish. When finished, cleaning is extremely fast and easy.
Robust and safe to operate
The stainless steel test cell offers excellent chemical resistance, making the instrument suitable for water based samples. For maximum user safety and perfect temperature stability, RapidOxy comes with a safety and isolation hood. There are no accessible hot surfaces. Equipped with Peltier cooling, the sample is chilled to a safe temperature before it can be removed.
RapidOxy requires no expensive and environmentally hazardous reagents. Instrument safety is approved by the Federal Institute for Materials (Germany).
Why measure oxidation?
In contact with atmospheric oxygen, the chemical decomposition of samples containing natural fats or other lipids begins. Oxidation is one of the most common reasons for product degradation. Oxidation stability characterises the resistance of the sample to oxidation. It is a necessary requirement for shelf-life investigations, quality control of incoming goods or during product development.
Applications for Rapidoxy
Rapidoxy is being used to investigate the oxidation stability of Cheese, Salad dressing, Waffles, Cereals, Biscuits, Nuts, Chocolate & Mayonnaise.
Many natural cosmetics contain vegetable oils and fats. Rapidoxy is currently used to for the development of Sun lotions, Hand creams, Body lotions and Lip balm.
Anton Paar Ltd
Tel: +44(0)1992514730
info.gb(at)anton-paar(dot)com
http://www.anton-paar.co.uk