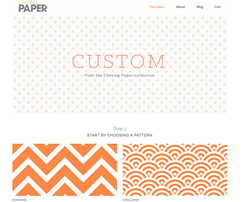 New York, NY (PRWEB) May 16, 2014
Today, Chasing Paper, a leader in the removable wallpaper space, launched a one-of-a-kind digital customization tool that allows consumers to design their own unique prints. Accessible on the company's newly redesigned website, the customization tool provides a stylish solution for unique interior styles and projects.
Visitors to the Chasing Paper website will be able to select from four core patterns, including Chevron, Dots, Stripes and Circle and Pop, and a variety of base and background colors. As the options are selected, the customization tool creates the print allowing customers to get an exact idea of the product. The custom panels will be sold in the traditional 2x4 sizing and will retail at $35.00.
"The customization tool was inspired by the creative feedback we receive from our customers," said Elizabeth Rees, founder of Chasing Paper. "Because interior style is an extremely personal choice, we wanted to provide a tool that allows consumers to play with color and prints to create a product suited to their exact needs and taste."
Chasing Paper is a New York City based company (with Midwestern roots) that works with talented illustrators and designers to create unique prints for the home. All Chasing Paper product is printed on 2x4 panels of a high-quality peel and stick fabric, giving it the luxe feel of traditional wall paper. The paneled design makes installation on a variety of surfaces – from walls and tabletops to refrigerators to bookshelves – simple and, best of all, removable!
About Chasing Paper
Chasing Paper was born in the hustle of New York City but has its roots in the heart of the Midwest. Inspired by conversations with serial- movers, stylish mamas, renters who feel like anything but, DIYers and, of course, commitment-phobes, Chasing Paper offers customers an affordable, fun way to transform spaces of all sizes. Available in a wide variety of colors and patterns, Chasing Paper's "peel-and-stick" application makes it the perfect solution any interior renovation. Panels currently retail for $30.00 and measure 2 feet by 4 feet. For more information, please visit http://www.chasingpaper.com.