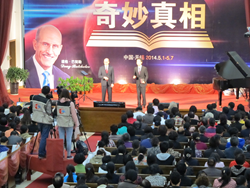 It's been estimated that in 15 years, there will be more Christians in China than there are in the United States. As the nation is on the verge of a massive Christianity explosion...
Sacramento, CA (PRWEB) May 15, 2014
The ministry of Amazing Facts, in cooperation with church leaders in China, took part in an unprecedented Bible prophecy seminar series in Wuxi, China, a city of six million about 50 miles west of Shanghai. It is believed to be the first officially approved, full length, public Christian evangelistic campaign presented by any foreign religious group or denomination in the communist nation since 1958.
The series began May 1, 2014, in a government-sponsored church and consisted of 15 Bible-based presentations over nine days. The estimated opening attendance of over 2,000 is difficult to confirm as each night the seminar venue was filled to capacity, including overflow rooms while additional visitors gathered outside doors and clustered near windows to hear the messages.
The speaker, Doug Batchelor, president of Amazing Facts and senior pastor of the Granite Bay SDA Church in California, says the evangelistic series is the result of nine years of strategic pre-work and prayers in of many groups the face of many bureaucratic challenges.
According to article titled "China's 'Anti-Church' Campaign Continues with Demolitions and Arrests" published in The Telegraph on May 9, 2014, just one month prior to the event, Chinese officials in another province ordered the destruction of a newly constructed, $4 million Protestant church in Wenzhou, China, which many saw as a new crackdown on the spread of Christianity (http://www.telegraph.co.uk/news/worldnews/asia/china/10818879/Chinas-anti-church-campaign-continues-with-demolitions-and-arrests.html). Pastor Batchelor explains, "Even just a few weeks before the meetings were slated to begin, we had serious doubts if it would actually be allowed. But many were praying and we believe it is a miracle we were granted permission to openly share the everlasting gospel in an officially atheistic nation."
Halfway through the meetings, the meetings were moved to a larger venue in Wuxi to accommodate the large crowds. Many traveled hours just to attend, including Lai Fung, who rode on a train for eight hours from southern China. A former atheist, he accepted Christ after watching the many videos on the Amazing Facts Chinese website. Also, a pastor of a local church with over 1,000 members came to the meetings and now wants to share what he learned about Bible truth through Amazing Facts with his congregation.
By the conclusion of the meetings, 192 people were baptized. Many of them were young adults who were formerly atheists but had their first contact with the last-day message through the Amazing Facts website, Bible studies, or DVDs.
Making these meetings even more significant, Amazing Facts was given permission to record the entire series on video for wider distribution as it continues its work in China, which includes the recent translation of the new Revelation: The Bride, the Beast & Babylon DVD into Mandarin. Ironically, it is hoped that the typical "pirating" of this video series, as it was with the Final Events of Bible Prophecy DVD and other Amazing Facts materials, will ensure its fast distribution throughout all of China.
Says Batchelor, "I am deeply thankful to the Lord that Amazing Facts was invited to be part of this historic event. It's been estimated that in 15 years, there will be more Christians in China than there are in the United States. As the nation is on the verge of a massive Christianity explosion, Satan is likewise poised to confuse millions with his clever counterfeits. I believe we received this rare permission because God wants a biblically sound message spread throughout China as soon as possible."
As part of its 10 year strategy to share Christ in China, Amazing Facts has been widely circulating the truth through translated DVD sermons, books, and a dedicated Chinese-language website, believing that one day a series like this would be possible.
About Amazing Facts
Located near Sacramento, California, Amazing Facts shares the Bible through radio and television on more than 650 stations around the world. It also operates AFTV, a 24/7-satellite network (http://www.amazingfacts.tv). Each year, more than 300,000 people contact Amazing Facts to receive information about Bible prophecy and other topics. Its many websites also receive more than 4.9 million hits every year. Learn more at http://www.amazingfacts.org.
About Doug Batchelor
Pastor Batchelor, who has frequently taught on the book of Revelation, appeared on the Discovery Channel in the National Geographic documentary The Riddle of Revelation. He is also the author of numerous articles and books on prophecy and hosts the weekly radio program Bible Answers Live.