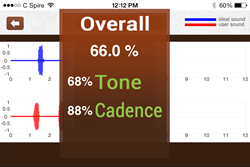 I was a squawker when I first started using Blow Like The Pros. I went from scoring in the lower 60th percentile to scoring in the upper 80th percentile. Houston Kennedy
Morgan City, MS (PRWEB) May 29, 2014
Excuse the pun, but this revolutionary new iPhone and iPad application will truly have hunters blowing like a pro. But seriously, whether hunters are hunting deer, turkey, duck, goose, or elk, all hunters know that calling is an art form, and not an easy one to learn. One wrong pitch out of a hunter's call or just the wrong cadence and hunters can send wildlife running for cover, instead of running to the sound of a potential mate or feeding grounds.
Owner and founder of Blow Like The Pros, Rocky Leflore, has been guiding and teaching hunters on duck, goose, and dove hunts for more than a decade through his hunting business, Mossy Island Outfitters in Morgan City, Mississippi. Leflore discovered the idea for his invention one night at a family gathering:
"Through my guiding business, I have always been asked for advice on how to perfect wildlife calls, but the real idea for this app came to me one night at a family gathering when my cousin asked for help with his calls. I began to show him some calling techniques, but then his phone buzzed with a text message and he became more interested in his phone than my lesson. At that moment, I realized that I needed a way to teach the younger hunting generation how to call with a smartphone application," Leflore said.
Since necessity is the mother of all inventions, Leflore used his past internet developing background along with his hunting expertise to develop a modern-day teaching solution for the hunters out there that want to perfect their calling techniques ̶ Blow Like the Pros was born. Before long, Leflore had his idea patented and gathered a team to help in the application's production.
This one-of-a-kind application allows users to choose the brand and name of call, the professional caller, and type of sound users want to hear from a set of prerecorded professional calls. The application then allows users to listen to the professional call as many times as they wish. Once the user feels ready, the user can press the record button to have the application record and grade their call against the professionals. The application even gives a graphic output of the user's call versus the professionals, allowing the user to visualize their call's cadence and pitch against the pros. There is also a feature that will play both calls (the user and the pros) simultaneously, allowing the user to compare the cadence and pitch of both calls at the same time. Premium members can go as far to get scores on their cadence and tone. It will almost be like having pro sitting next to the user giving instruction on how to get better.
What place is there on Blow Like The Pros for the most seasoned and professional callers? Leflore said, "We need uploaders of different sounds from different types of calls! All uploaders will receive a royalty on their sounds each time they are downloaded by other users. Since each brand and type of call is unique in the sound they make and our application is so detailed, we need all sounds for each brand and type of call."
Needless to say with all of these features, this application will truly have users blowing like a pro and for the pro making money on their unique skill.