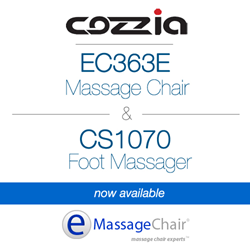 Since Cozzia launched in 2011 they have become a market leader and one of the top 3 massage chair brands.
Las Vegas, NV (PRWEB) May 16, 2014
Cozzia a widely popular massage chair company has just announced a new release that will be available at Emassagechair.com. Emassagechair and Cozzia have a long standing partnership offering health and wellness products to customers all over North America. Since Cozzia launched in 2011 they have become a market leader and one of the top 3 massage chair brands. They have a product line that includes a wide variety of chairs at all price points. They also released a line of Zero Gravity chairs and relaxation chairs, as well as handheld massagers and foot massagers. Their Cozzia 16028 has been rated a Best Selling Massage Chair, and they are hoping that they can make their new EC363E a top selling massage chair.
Cozzia products are available through 800 storefronts as well as partnerships with top online massage chair stores. This gives shoppers a great opportunity to learn and use their products as well as shop with the stores they trust. Cozzia products are designed to be high quality, easy to use, and full of massage features at an affordable price. Their Cozzia EC363E model retails for $3299 and comes with a complete full body massage experience. The massage roller is adjustable with strength, speed, and width to help a user pinpoint a specific problem area while offering full coverage. The 38 airbag system offers compression therapy across the shoulders, neck, back, hips, calves, feet, and has 5 levels of adjustability. One thing that can be overlooked is the ease of use of a massage chair. The EC363e has an intuitive remote with very simple automatic programs as well as manual adjustments. It also offers a lift feature to help users get in and out of the chair, which is very useful for people with disabilities, an elderly person, or someone using the chair for injury recovery. Cozzia also added some more traditional features like vibration and heat to make the experience more therapeutic.
With the release of the Cozzia CS-7010 its clear that they want to fill consumers therapy needs at every level. This foot massager is very simple to use and is designed to apply air pressure to the soles, toes, feet, and heals. One thing you don't see often in foot massagers is the addition of Heat, which Cozzia has included in this model. The CS-7010 will retail for $249.
Recently Cozzia was named a top performer for being the fastest growing division within their Chinese base parent company. It's clear that Cozzia will continue to come out with new products and will continue to push to be a market leader in health and wellness products. For any readers interested in learning more about Cozzia massage chairs or other Cozzia products they can call the Massage Chair Experts™ at 888-360-9996 email support-at-emassagechair.com or by visiting https://www.emassagechair.com/.