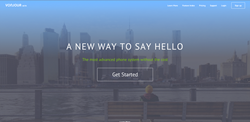 It's rarely the case that a startup becomes lured down a blind alley trying to make early users very happy.
Santa Monica, CA (PRWEB) May 20, 2014
Startup businesses face significant amount of uncertainty. Is there a significant enough market for a product? What is the competitive landscape? Do we have the right team to to get the market to product? How much capital is required to go to market?
There are so many unknowns that come with creating a new venture. However, the most pressing issue a larval stage business needs to address is whether the product it is building is solving a real customer pain point and whether that paint point is large enough to scale a business.
Vonjour, a new cloud based phone system and customer support solution, has created a guide to help founders address startup uncertainties and scale a business through customer support driven learning. The goal of 'lean customer support' is to test initial assumptions of the business prior to making leap of faith investments into expensive software tools and customer support hires.
Customer feedback and rapid iteration based on early user engagement is an integral part of creating a successful startup business. Engaging heavily with early users is a difficult task that many founders often neglect. For most successful startups, however, over engaging with early users is a necessary part of the feedback loop that makes a product great.
Many successful startups build great products with less than a handful of customers in mind. The goal is not to customize a solution for one particular user, but to focus a product development team on the pain point's of actual customers. Most importantly though, becoming a customer's consultant allows the founding team to intimately understand the needs of a much larger target market.
Understanding the needs of users is one of the most important ways to prioritize feature product releases. One of the hardest parts of being an early stage company is prioritizing what aspects of a team's vision to build out first.
With limited resources, startups constantly have to say no to seemingly good ideas to focus on the most urgent needs of their customers. Talking to users, however, allows early stage startups to discern patterns in customer pain points and prioritize feature releases that are most aligned with their customer's needs. When multiple customers have a similar pain point or need a specific feature, it's a good indication that the particular pain point represents an opportunity that the market has yet to address. The net effect of these early conversations with customers is a sense clarity in how to address a product roadmap.
In addition, early user feedback can guide product development teams to fine tune an early and un-refined product to achieve a product-market fit. Through this process, the development team can tweak their products to create what Steve Job's called an "insanely" great user experience.
Prioritizing user happiness is a difficult task. Paul Graham suggested that Job's was referring to a pathological dedication to making users happy—to the point where an outsider would consider the team slightly deranged in their obsession of providing customer happiness. "Insane," viewed in such a lens, is very much so fitting. Great companies take execution and making users happy to extreme levels.
When launching Gmail, Eric Schmidt challenged his team to get 100 happy users inside of Google before launching the product to the public. The team approached 100 users inside of Google and asked what they could do to make them happy. The team fine tuned the product until they made 100 Google employees really happy. The feedback loop with Google employees guided the product development team to delivering insanely great product and helped the team prioritize which features were most important.
While Google focused on making 100 users happy, some great companies focus on addressing the pain points of one single customer to make an insanely great product. The company in this situation becomes the consultant to its customer—building a seemingly customized solution for a client. In such a scenario, the product development team focuses on the customer's needs by bringing the customer into product planning cycles. Doing so truly prioritizes the customer's most pressing needs during a sprint cycle.
The consultant approach seems backwards considering that most startups are building products for more than one customer, but remember startup productivity is not about cranking out more widgets or features; it's about aligning product development efforts with a user to create value for that user. By including the user into the product planning, the team knows that it is actually creating something that users really need.
The key of course is to bring in a customer who is representative of a much larger target audience. At Vonjour, we devoted our sprint cycles around the most urgent needs of less than a handful of high priority customers. In bringing these companies into our product planning strategy, we could discern overlaps in pain points in how they connected with their customers. We prioritized our product backlog on the most urgent needs. Most importantly though, engaging with these early customers allowed us to better understand the audience we were building our product for.
It's important to note though, listening to users does not mean doing exactly what they request though. It's up to founders to decode what users are requesting into the pain point that they are experiencing—the true message of user feedback is often buried on the surface of their requests.
It's rarely the case that a startup becomes lured down a blind alley trying to make early users very happy. Sprint planning sessions offer a great opportunity to bring in a customer to collaborate on creating and fine tuning a product for a handful of customers that solves a real need.
This high level engagement is one of the advantages of still being small. Startups can provide an elevated level of attentiveness to a smaller group customers and make them insanely happy. The result is a product that actually adds value to customers and fuels the engine of growth for the business. It will be orders of magnitude easier to sell and market the product once a startup has built a product that users really need and could not do without.
Companies like Intercom.io and Vonjour offer tools to measure a company's interactions with their customers. When customer support goes above and beyond expectations, brands can drive customer loyalty and enhance word of mouth virality. Like any other part of the startup experience, customer support involves many iterations. Support tools should include metrics on how responsive and effective organizations are able to provide happiness to their customers through these channels.
About Vonjour:
Vonjour is the uber intelligent business phone system and customer communications platform. Vonjour offers new channels for businesses to support customers, while providing businesses visual analytics to measure organizational effectiveness. Vonjour makes any organization faster, more responsive and more sophisticated in supporting its customers.