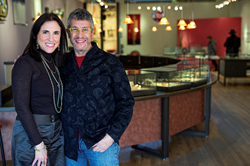 Opened in 1999, Patina remains true to a curatorial vision blending sophistication with soul and warmth.
Santa Fe, New Mexico (PRWEB) May 21, 2014
Santa Fe's Patina Gallery, one of the country's preeminent galleries presenting contemporary design and fine craft, proudly celebrates 15 years! Opened in 1999, Patina remains true to a curatorial vision blending sophistication with soul and warmth.
The Summer Exhibition Calendar
Patina's 15th year is emerging as a year of new ideas! The gallery, best known for the exhibition of fine craft and fine jewelry by artists from around the world, begins the exhibition year with a guest artist series titled "Drawn to the Wall." This program of 3 guest artist exhibits allows the gallery, for the first time, to present fine art for the wall. Also on the calendar is an incredible 13th exhibition with Atelier Zobel, the German jewelry studio that is redefining the way the world thinks about fine jewelry.
June 6 - 29
The first exhibition of the summer, "Ephemerist," introduces works by Santa Fe artist Gail Rieke, nationally known for her collage and assemblages. Each is lovingly constructed with sensitivity to tone, texture and feel. These highly personal works often incorporate objects acquired while traveling abroad and other organic material like stones, branches and grasses. "Ephemerist" coincides with the opening of the acclaimed Santa Fe Opera.
Gail Rieke's exhibition opens June 6 with an artist reception from 5:00 to 7:30.
July 3 - August 11
The second of the summer exhibitions, "Shape Shifter," features the pigment on aluminum, abstract paintings of David Solomon. At times primitive and biomorphic, at others reduced and geometric, his paintings can differ greatly from each other. Some are dream scapes of floating forms and warm, diffused palette while others are laser focused and hard edged. They explore a fertile world of abstract imagery and shape, where loosely drawn forms meander and collide. Solomon's exhibition coincides with the SITE Santa Fe biennial "Unsettled Landscapes" and ART Santa Fe, a bi-annual exhibition.
Solomon's exhibition opens July 11 with a reception from 5:00 to 7:30.
July 4 - July 17
At the same time that Patina hosts Solomon's show, the gallery will present another special guest, a project of Philippine born artist and Santa Fe resident, Victor Teng. "La Vaca Loca" is a life size fiberglass cow, painted and embellished with patches of mylar and passages of sequins. The spectacular "La Vaca Loca" makes this special appearance as part of the gallery's celebration of the International Folk Art Market. An artist reception is planned for July 4 from 5:00 until 7:30.
August 15 - August 31
There is one Patina Gallery event this year that continues a favorite tradition. This is the return of Atelier Zobel, Germany's renowned jewelry studio. Even the always anticipated return of the atelier will be presented newly! In August, Patina plans a very exceptional exhibition, "100 Rings." Just as the title suggests, the acclaimed studio presents 100 beautiful rings in oxidized silver, high karat gold and platinum. Traveling from Germany, artist Peter Schmid will be in the gallery to share his atelier's magnificent creations. This will be Atelier Zobel's 13th exhibition with Patina Gallery and the audience for these thrilling works only continues to grow! The Atelier Zobel exhibition opens with an artist reception August 15, from 5:00 - 7:30.
October 3 - October 26
In the third and final "Drawn to the Wall" exhibition, Daniel Kosharek presents recent paintings from his "Measure of Days" series. Each is a meditation on the day it was painted and is titled with that day's date. With rich, saturated palettes they suggest landscapes but abstracted, more gesture and essence than detail. Kosharek's loose brushwork and heavily textured surface express the fleeting nature of a moment - one must work briskly to capture time. Kosharek's exhibition opens with an artist reception October 3 from 5:00 - 7:30.
Allison and Ivan Barnett, owners of Patina Gallery, both trained as artists and their aesthetic sensitivity underlies every gallery consideration. Patina is defined by their passion for craftsmanship and beauty. What began as a desire to share their love for design and high craft has grown into something much larger. This 15th anniversary marks a new beginning and a very promising future.