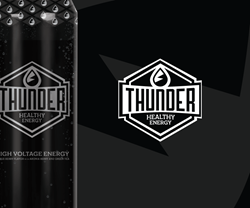 We felt we could produce a drink that was healthier, more affordable, and better tasting than other products on the market. - Kirby Cochran, WakeUpNow CEO
Provo, UT (PRWEB) May 16, 2014
WakeUpNow announced improvements to the pricing structure last Friday for their popular "Thunder" energy drink, including the announcement of free shipping and a Subscription Savings Program. The new pricing comes on the heels of incredible demand for Thunder, which was released last September at the WakeUpNow Corporate Conference.
One of the biggest announcements was free shipping on orders of two or more cases of Thunder. In recent months WakeUpNow has run complimentary shipping promotions that were so well received the company changed to make it a permanent benefit.
"We have always said that we were aiming to have the highest quality and best pricing with Thunder," said WakeUpNow President Jason Elrod. "We didn't want to be the best in direct sales, we wanted to be the best in the world, and we knew it would take a competitive pricing structure to make that happen."
The price of shipping energy drinks has been on the rise recently and in order to offer complimentary shipping WakeUpNow had to innovate on every aspect of their production process. With everything from bottling techniques to distribution methods new ideas and innovations paved the way for the exciting announcement.
"We knew that in order to be competitive with the open market that we needed to get cans in the hands of our customers including the cost of shipping for two dollars or less." said WakeUpNow Chief Executive Officer Kirby Cochran "I am excited we are market leaders in competitive pricing."
Customers can save an additional 10% on each case through the newly announced Subscription Savings Program. For Thunder customers that are interested in having their Thunder fix delivered to their door each month, the Subscription Savings Program let's them save even more money pushing the price of Thunder even lower.
Demand for Thunder has come from many different places, not the least of which is retail resellers. Many prominent restaurants and stores have expressed interest in reselling Thunder due to it's strong branding, incredible taste, and health benefits. In response to this demand WakeUpNow announced its Thunder Wholesale Distribution Program. The program allows independent business owners the opportunity to attend a training course provided by WakeUpNow in conjunction with beverage distribution experts. The course will teach independent business owners the Wholesale Distribution Program details, B2B business selling tips and techniques as well as legal compliance issues.
"We expected Thunder to be a popular product, but the response from the general market and retail resellers has been beyond what we could have predicted." said Elrod. "We are going to help our social distribution network get the drink in the hands of everyone who wants it, and our Wholesale Distribution Program will help facilitate that."
Thunder has found widespread praise for it's combination of healthy energy and affordable pricing. Packed with essential vitamins, minerals, green tea and the super fruit aronia berry, Thunder packs benefits that other energy drinks don't. Some of the benefits may include*:

No-crash energy boost
An increase in your body's ability to burn fat
Boosting of your metabolism
Assistance in reducing blood pressure
Reducing inflammation
Supporting healthy eyes
Shortened muscle recovery time after workouts
Help regulating blood sugar
Most energy drinks on the market currently have between 45 and 120 calories per serving in addition to an excess amount of sugar. Thunder combines just 10 calories with a sugar-free formula, all without sacrificing taste.
"Energy drinks are already popular, but we saw a chance to improve the model." said Cochran. "We felt we could produce a drink that was healthier, more affordable, and better tasting than other products on the market. After many months of research and development we found a formula that met all our requirements and we have been incredibly pleased by the reception"
In addition to the new pricing, WakeUpNow also unveiled the Thunder redesign. The design focuses the power of Thunder's High Voltage Energy into a sleek new can, setting it a part as the boldest energy drink on the market.
WakeUpNow utilizes their social distribution network to promote and share their products and service via an innovative e-commerce platform. Thunder has proved to be a very popular product both inside and outside of the business opportunity.
Often in the direct sales industry energy drink sales are driven by the need to qualify to participate in the business opportunity. With WakeUpNow there is no cost to join as a customer or as an independent business owner. Unlike many companies in the direct sales industry, Wake Up Now customers and distributors are purchasing Thunder for the pure enjoyment and consumption of the product and not with the intention to achieve minimum sales requirements. This industry paradigm-shifting movement is another example of WakeUpNow leading innovation in the direct sales industry.
Anyone can purchase Thunder by visiting wakeupnow.com.
####
WakeUpNow is a social distribution network powered by an e-commerce platform that offers high quality digital, physical, and consumable products priced aggressively to compete with the general market. The platform gives independent distributors the ability to earn commissions for sharing those products with others.
*References:
http://home.ueb.cas.cz/COST926/Naruszewicz2008.pdf
http://www.foxnews.com/health/2013/06/07/aronia-north-american-super-berry-with-cancer-fighting-benefits/
http://www.ncbi.nlm.nih.gov/pubmed/20047267
http://www.bodybuilding.com/fun/mohr75.htm