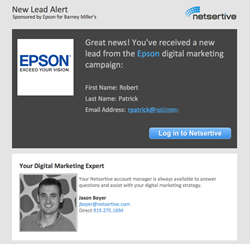 This release helps our product brand and local business clients collaborate and extend into important digital channels which drive qualified buyers to their doorsteps in local markets.
Research Triangle Region, NC (PRWEB) May 16, 2014
Netsertive, a Google Premier SMB Partner specializing in automated digital channel marketing, today unveiled its Spring 2014 platform release to support its rapidly growing client base of local businesses and national brands in key verticals such as: automotive, audio-video, major appliances, furniture and medical practices.
"Our core objective is client success," said Brendan Morrissey, CEO. "This release helps our product brand and local business clients collaborate and extend into important digital channels which drive qualified buyers to their doorsteps in local markets, while controlling the process from a single platform."
Netsertive's latest product release adds the following solutions to its marketing platform:
Brand-supplied landing pages. Embedded on local business websites, these conversion-optimized webpages deliver an optimal viewing experience across the range of digital devices, from smart phones to tablets and personal computers. These "responsively designed" pages serve brand-approved product information along with special offers, capturing leads and conversions from qualified prospects to deliver end-to-end network success for national brands and their local channel partners.
Shopper alerts. Automated alerts to clients which give them the power to respond at Internet speed when local prospects call or convert online to learn more about specific local products, services, and brands.
Internet business listings. Single- and multi-location businesses can verify the accuracy and completeness of their digital business profiles, including business name, address, phone number, hours of operation, and more. The service saves hundreds of hours of work since subscribers enter their location profiles inside Netsertive's platform in minutes, which then submits the data to dozens of major search engines, online directories, GPS and map services, and social media sites.
Advanced call tracking & recording. Netsertive places a trackable phone number on client websites and online advertisements, enabling detailed attribution tracking. The advanced functionality now delivers insights into which specific brand, product or service triggered the local customers to pick up the phone and start a sales conversation.
Search retargeting. Reaches previous website visitors with targeted text ads on Google search that deliver conversions at a lower cost, bringing prospects back to buy. Netsertive was the first Google Premier SMB Partner to offer this advanced service to clients who want an additional high-quality ad channel.
"We're always listening to clients, delivering technology solutions that solve real business problems," said Max Leisten, Senior Director of Product at Netsertive. "Our subscribers asked for the strategies that we're releasing today. They're designed to boost online visibility and productivity, delivering more leads from qualified, local prospects who use a variety of digital devices during every path to purchase."
To watch a short video explaining the enhancements, connect to the Netsertive blog: http://netsertive.com/blog.
Current Netsertive subscribers should call their client success manager to upgrade their subscription to gain access to the new enhancements.
Business and brands interested in learning more about the company's Digital Extend™ for local businesses and Local Extend™ online marketing programs for national brands should contact Netsertive at 800.940.4351.
ABOUT NETSERTIVE
Netsertive (netsertive.com) has moved to the forefront of the digital ad tech industry with a vision of using technology to connect local consumers with products and businesses. Based in the Research Triangle region of North Carolina, the company automates localized digital advertising and channel-marketing solutions, leveraging online search, online display, social media and mobile platforms. It provides standalone localized campaign automation as well as its innovative Digital Co-Op system, which combines brands and local channel partners in turnkey, cooperative online ad campaigns. Serving specific vertical industries, Netsertive helps local business, multi-location retailers and national brands increase sales in targeted local markets with its expert team and patent-pending technology platform. Founded in 2009, the company has a history of rapid growth, a world-class team, and the strength of venture capital funding from top firms RRE Ventures, Harbert Venture Partners and Greycroft Partners.