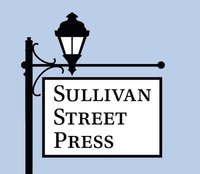 Even with the changes to distribution, each title will still have the Sullivan Street Press guarantee of quality. We are not going away; simply making it easier for our customers to order.
New York, New York (PRWEB) May 22, 2014
Sullivan Street Press's e-commerce web platform will come to an end on May 22, 2014, as the publishing company transitions to providing their book titles through new distribution centers: the Kobo e-bookstore and the IngramSpark Print on Demand service.
The Sullivan Street Press website will be revamped to account for the changes within the company. Deborah Emin, founder of Sullivan Street Press, currently plans to utilize the website to inform customers of where they can purchase their titles and provide blog posts by all Sullivan Street authors, guest blogs about the issues the press advocates for and the road trip recaps from the Sullivan Street Press Itinerant Book Show.
On May 22, the e-commerce web platform will disappear from the site and customers will be directed to order from Kobo for e-book purchases and IngramSpark for print on demand, paperback purchases. All of the currently offered titles, and any future titles that are published through Sullivan Street Press, will be available for purchase from both distribution companies. Current titles include: Scags at 7; Scags at 18; Eating Vegan in Vegas; and Occupy this Book.
For ordering e-books via Kobo, customers can search for titles at: http://store.kobobooks.com/en-US. For ordering paperback copies via IngramSpark, customers can use the following ISBN numbers:

Scags at 7: 978-0-9819428-0-3
Scags at 18: 978-0-9819428-7-2
Eating Vegan in Vegas: 978-0-9819428-2-7
Occupy this Book: 978-0-9818428-1-0
"After much work with our two new distribution partners, I am so excited to announce that the transition away from e-commerce will finally take effect this week," said Emin. "Even with the changes to distribution, each title will still have the Sullivan Street Press guarantee of quality. We are not going away; simply making it easier for our customers to order. Please help us spread the word about all of our books and ask your local library to order them too."
About Kobo:
Founded in December 2009, Toronto-based Kobo has quickly become a global leader in eReading, offering a world-class platform for the most passionate Readers. Kobo delivers the best digital reading experience to millions of users in 190 countries, offering one of the world's largest catalogues with millions of titles, world-class eReading devices, and top-ranking apps.
About Ingram:
Ingram Content Group is the world's largest and most trusted distributor of physical and digital content. Ingram got its start in 1964 as a textbook depository and has since grown and transformed into a comprehensive publishing industry services company that offers numerous solutions, including physical book distribution, print-on-demand and digital services.
About SULLIVAN STREET PRESS:
Founded 4 years ago, Sullivan Street Press entered the e-publishing domain to change the publishing paradigm. It recognized that for both financial and environmental reasons it was necessary to advocate for the rise of the e-book and the technology that makes all things digital possible. Responding to readers' concerns, many of whom aren't yet ready to commit to the e-book revolution, SSP began to have its books published in Print-on-Demand format on the Espresso Book Machine at McNally Jackson Books in New York City. In furtherance of the digital side of its publishing mission, the Scags Series is also available as in iPad app, powered by MAZ Digital. For more information on all the various ways in which Sullivan Street Press is using new technology to reduce pollution and waste in the publishing process, visit its 100% carbon neutral website: http://www.sullivanstpress.com.