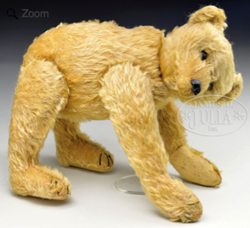 These treasures are extraordinary in terms of condition, provenance, and rarity, and offer Steiff enthusiasts today the opportunity to add a remarkable piece of history to their collections. - Rebekah Kaufman, Consultant Steiff Archivist
Fairfield, Maine (PRWEB) May 19, 2014
James D. Julia, Inc., one of the nation's top ten antique auction houses, is proud to present this comprehensive and breathtaking collection in association with the company's Antique Advertising, Toy, & Doll Auction to be held on June 13, 2014. This will be without a doubt the most exciting US based Steiff sales event of the decade! The Steffes collection offers something for everyone - and given Steiff's universal appeal - is certain to be of great interest to collectors, museums, and toy enthusiasts and historians all around the world.
The Steffes collection reflects the finest examples of Steiff design, quality, and craftsmanship from the turn of last century through the early 1950's. It also showcases a marvelous assortment of fine German Bing bears and early and important Steiff cats and rabbits. Three absolutely exceptional treasures from this sale include:
An extremely rare and historically important original Steiff "Rod Bear" with the earliest "elephant" button, which is lot #3008 and is estimated at $15,000 to $22,000. Bears with rod jointing were only produced for a few years at the early turn of last century and just a handful remain today. This 15" tall bear is made from blonde mohair, is 5-ways jointed, and has felt paw pads. Teddy's body is very solidly stuffed. His early and lovely face is detailed with black shoebutton eyes, a shaved muzzle, a black hand-formed gutta percha nose, and a light brown mouth. And for his pièce de résistance, Teddy has his original elephant button in his ear, perhaps the most desirable Steiff ID in the world.
A most desirable and astonishingly collectible black Steiff "Titanic Mourning Bear" with identification, which is lot #3025 and estimated at $25,000 to $40,000. Collectors know these examples to be amongst the most sought after vintage Steiff bears in the world. Teddy stands 12-1/2" tall, is made from black mohair, and is 5-ways jointed with tan felt paw pads. He is stuffed with excelsior and has black embroidered claws on his hands and feet. Teddy's face is detailed with highly distinctive red felt backed shoebutton eyes and a black hand embroidered nose and mouth. Teddy retains his long trailing "F" Steiff button and a slight trace of his white tag. Only 655 total of these red backed eye bears were produced in response to the sinking of the Titanic in 1912.
A truly spectacular brown tipped mohair Petsy bear, which is lot # 3053, and estimated at $20,000 to $30,000. This Ted stands 16" tall and is completely irresistible! Petsy's baby face is detailed with large wire rimmed, poseable ears; oversized black and blue glass pupil eyes; and a distinctive center seam and facial construction. Typical to his pattern, he has pink nose, mouth, and claw stitching - which has faded to more of a tan color. This beloved Steiff design was originally called Buschy upon his introduction, but his name was later changed to Petsy. Overall, Steiff made 10,668 Petsy bears through 1930. This delightful Petsy retains his trailing "F" button and legible red ear tag, and is a wonderful example of one of the most desirable and appealing Steiff teddy bears.
Other Steiff highlights from the Steffes collection include a very early disk jointed elephant buttoned bear, numerous very early turn of last century five clawed bears, a bright yellow "Happy" styled wide-eyed bear, and a felt-pawed Dicky bear. Also available are numerous extremely large Steiff Teds – some as big as toddlers – as well as many fine examples of the company's highly desirable "center seam" style bears. And, for those collectors who seek unique one of a kind examples, this sale includes several "muster" or in-house company samples.
According to Rebekah Kaufman, Consultant Steiff Archivist for North America and the cataloger for this collection, "I am profoundly grateful and honored to have been asked to handle Chuck and Cathy's world-class collection. Cataloging these rarities was like walking through the Steiff archives in Germany or the Dollhouse Museum in Switzerland - but only better because I could actually touch the treasures! The items overall are extraordinary in terms of condition, provenance, and rarity, and offer Steiff enthusiasts today the opportunity to add a remarkable piece of history to their collections."
About James D. Julia, Inc.:
James D. Julia, Inc., one of the top ten auction antique houses in the nation, is headquartered in Fairfield, Maine. The company also has an office in Woburn, Massachusetts. In business for over 40 years, the company conducts high-end antique, collectible, and decorative arts auctions throughout the year. Julia's routinely establishes new world records through its sales events. Julia's has four key divisions, including rare firearms and militaria; fine and Asian art and antiques; lamps and glass; and important toy, dolls, and antique advertising. Each division has been ranked nationally for excellence and is staffed with world-class specialists to insure fair and professional authentication, identification, and valuation services.
For more information on James D. Julia, Inc. and the company's June Antique Toy, Doll, & Advertising Auction, please visit http://www.jamesdjulia.com.