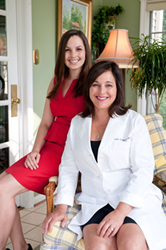 Sending Selfies from a Smartphone can be as reliable as an in-person consultation
Oak Hill, VA (PRWEB) May 21, 2014
This is a big month for the founders of DermUtopia, Dr. Brenda Dintiman and her daughter Christine Shanahan, who is currently completing her first year of medical school at the University of Virginia School of Medicine. May is #Melanoma Awareness Month and one year ago today, Dermutopia.com was launched to improve patient access to dermatological care in Virginia and Maryland.
According to the American Academy of Dermatology, on average, one American dies from melanoma every hour. In 2014, it is estimated that 9,710 deaths will be attributed to melanoma. When caught early, skin cancer is highly treatable. When a patient discovers a suspicious looking mole, they want to be seen immediately. DermUtopia's online dermatologists can review and examine patient case studies along with patient uploaded "selfies" and respond within 72 hours. Instead of waiting weeks to be seen, the patient is provided with the critical information he or she needs in a timely manner.
Sending Selfies from a Smartphone can be as reliable as an in-person consultation.
A recent study published in the journal JAMA Dermatology examined the field of teledermatology, in which dermatologists use patient photos of suspicious spots to deliver a remote diagnosis. The study illustrated the effectiveness of #teledermatology, finding that an online dermatology consultation produced an equivalent diagnosis over 90% of the time.
Dr. Dintiman and her daughter, Christine, continue working to improve patient access through their new teledermatology service, DermUtopia. DermUtopia is a hassle-free and user-friendly online application that allows patients in Virginia and Maryland to address skin problems easily on their own schedule. Now, from the comfort of their homes, dorm rooms or offices, they have access to prompt care from a U.S. board-certified dermatologist. Patients can choose whether they want to use their computer, iPhone, iPad, Android phone, or Android tablet.
DermUtopia connects patients to a DermUtopia dermatologist via a HIPAA-compliant, secure application. The ClickMedix application enables patients to submit medical history and #selfies of the concerning area of skin which together serve as a virtual consultation. These electronic consultations can be used for all types of skin problems. After submitting the consultation, a DermUtopia dermatologist reviews and examines the patient history and images thoroughly and within 24 to 72 hours responds with a diagnosis and treatment plan. When a prescription is recommended, the dermatologists at DermUtopia can electronically prescribe medications for pick-up at the most convenient pharmacy for the patient. If further examination is required, a live-interactive consultation or an in-person office visit at a local dermatologist may be recommended.
This mother-daughter team realizes that limited access to care for patients is a significant issue that must be overcome in order to improve the state of the medical community. With this in mind, they have explored many options that could minimize this problem, and their research has led directly to the matchless potential of teledermatology. Dr. Dintiman practices telemedicine for the American Academy of Dermatology (AAD) and has received the Presidential Award for Volunteerism in Telemedicine for both 2010 and 2014. As members of the American Telemedicine Association (ATA) and other telehealth groups, Dr. Brenda Dintiman and Christine Shanahan became the driving forces in the establishment of the teledermatology company called DermUtopia. Their motivation to increase access to dermatological care for Virginia and Maryland residents and confidence in the modern technology that makes this possible reflect the central mission of DermUtopia: to lead the medical community towards a better future.
The problem of limited access is significantly pronounced in the local Hispanic communities. According to the journal American Family Physician, Latinos comprise nearly 16 percent of the U.S. population, and this proportion is anticipated to increase to 30 percent by 2050. Barriers to care have resulted in striking disparities in quality of health care for these patients. These barriers include language, lack of insurance, different cultural beliefs, and in some cases, illegal immigration status, mistrust and illiteracy. Dr. Dintiman's mother Hilda Cabrera-Dintiman, translated the teledermatology mobile app and consultation to Spanish to increase access to care for Hispanic residents. Last year the launch of DermUtopia during Mother's Day week was in honor of Hilda Cabrera-Dintiman who passed away on March 21, 2013.
If you would like more information about this topic, please contact Christine Shanahan at (571) 306-0662 or email at dermutopia(at)gmail(dot)com.