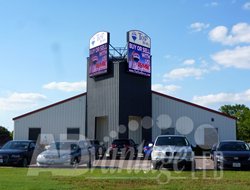 "I like that the LED signs from Advantage are manufactured right here in the states." Sam Ferreri
Houston, TX (PRWEB) May 20, 2014
For years, the small town of Pearland was known as a somewhat desolate and largely ignored plot of prairie land located about a dozen miles south of Houston. Home to a few beer joints and the occasional church, the tiny town didn't experience any real growth at all for almost 100 years. The number of hardworking people hovered around 30,000, most of them employed at the nearby refineries. Recently, however, the town named after the pear trees that used to dot the landscape, experienced a dramatic growth as more and more affluent young families flocked there at the turn of the new millennium to escape the traffic, noise, pollution and crime of the big city. And these growing families needed homes. For one nearby real estate agency, it was a dream come true.
RE/MAX-affiliated Top Realty, located roughly halfway between Houston and Pearland, is situated quite a ways back from the busy thoroughfare. For years they were content with a digital scrolling letter marquee sign that flashed a daily message in the hopes of attracting passing drivers coming home from work. The LED sign was installed on only one side, and the side opposite the one-way traffic was simply a static board displaying a phone number and the familiar RE/MAX balloon. Business was steady. But when a business next door erected a large building that blocked drivers' views of the marquee sign, owner Sam Ferreri knew it was time to do something drastic. He walked outside, stood by the street and stared at his beautiful building, seemingly miles away from him and the cars whizzing by. He gazed at the ample available space above his front doors. He looked at his digital sign in the shadow of the adjacent business that read "Get better neighbors than us!!! We can help!"
Then he decided to install two huge, full-color digital billboards on the top of the building, above the neighboring business, where no one could miss them. A Google search eventually brought him to Advantage LED Signs in Houston, where he purchased two 10' x 12' 12.5 mm iPixel 240x288 high definition LED signs.
"I'm all about buying American," Ferreri explains, "I like that the Real Estate LED signs from Advantage are manufactured right here in the states."
The manufacturing facility for Advantage LED Signs is located in southern California.
After the signs were installed, Sam and his excited team of agents were thoroughly trained on the cloud-based software and were pleasantly surprised at how easy it was to create, schedule, and display content on the outdoor digital signs.
"She (the trainer) was very helpful," remarks Ferreri.
The sign has only been up a couple of months, but Sam and the team can already see a marked increase in walk-in traffic.
"The original marquee sign seemed to bring in mainly foreclosure business," says Ferreri, "Now, we are seeing a whole lot more home sales leads with the new sign.
Ferreri is a marketing man at heart, and he's convinced that the huge LED billboards flanking his office are going to become a landmark in the community. He has no regrets about the initial cost of the LED sign, and would recommend Advantage LED Signs to anyone; except maybe other realtors in the area.
About Advantage LED Signs:
Established in 2009, Advantage LED Signs is a US manufacturer of LED signs and LED Billboards, selling direct to businesses and organizations nationwide. Advantage LED Signs operates as a total turn-key solution provider, stating that no job is too big or too small.