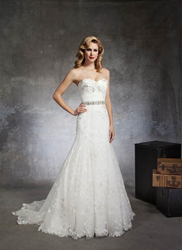 The Bridal World takes the stress out of finding your perfect dress.
Baldwin, NY (PRWEB) May 17, 2014
During the next few months, The Bridal World will become your number one resource for insider access to a variety of beautiful bridal gowns and prom dresses.
Continuing from April, our Blush Prom Trunk Show continues its successful run in the salon. Dazzling crystals, lush chiffon and princess tulle are all well represented on this fantastic line of sexy sheath dresses and red carpet mermaids. Prom is only a little more than a month away, and now is the perfect time to make an appointment to view the line and select your prom gown!
The Bridal World prides itself on making sure that every customer's prom is special. They are one of the few stores that guarantee gown exclusivity for each high school. Once a dress has been selected by a prom client, that dress will not be sold to any other individual attending the same prom. This is just one of the ways that The Bridal World makes sure your dress is truly the perfect one!
This weekend, May 16 - 18, The Bridal World will be hosting the Justin Alexander 2015 Sneak Preview Trunk Show in the salon. Be one of the first to have a look at this beautiful line of dresses, all of which are adorned in exquisite lace, shimmering organza, or glowing Swarovski crystals. The Bridal World is proud to be the exclusive carrier of this trunk show in the area and would love to help schedule your appointment to experience this one-of-a-kind designer show experience.
To finish out this season of trunk shows, The Bridal World is proud to be hosting an Allure Bridals Trunk Show July 25 - 27. This will be the first ever Allure Trunk Show at the salon and over thirty dresses will be included for each bride to experience firsthand. Allure Bridals is known for its sumptuous fabrics and delicate designs that create timeless and chic bridal looks. A major design house nationwide, Allure has become synonymous with elegance and quality.
As these new dresses spend some time in the busy salon, The Bridal World is excited to have the pleasure of working with many new brides and prom clients in order to assist them in purchasing the dress of their dreams.
The only Salon catering fully to Bridal needs in Baldwin, NY, The Bridal World was founded in May 2005. Offering Bridal, Bridesmaid, Mother of the Bride, Flower Girl, Sweet 16, Bat Mitzvah and Prom Styles, the Bridal World takes the stress out of finding the perfect dress by offering a wide variety of styles such as Mermaid, Fit and Flare, Ball Gown, and A-line in a luxurious range of fabrics such as Organza, Lace Overlay, Silk and Satin. The Bridal World also offers an exceptional selection of accessories such as Veils, Corset Bras, Jewelry and Bridal Belts. For more information on The Bridal World, visit http://www.thebridalworld.com. Follow them on Twitter (@BridalWorldNY), on Pinterest (/thebridalworld/) and find them on Facebook (/TheBridalWorld).