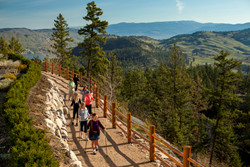 While Europeans traditionally schedule a week or two of vacation each year to stay in a health resort, this is relatively a new trend for North Americans
Okanagan Valley, Vernon, British Columbia (PRWEB) May 19, 2014
"While Europeans traditionally schedule a week or two of vacation each year to stay in a health resort, this is relatively a new trend for North Americans," states Hans-Peter Mayr, CEO of Sparkling Hill Resort Wellness Hotel and former general manager of several health destination spas in Austria. "With an aging population in Canada and the US, and vacationers today focused on lifestyle values, health and sustainability, more of our guests are beginning to see the value and choose one of our week long health programs offered at our European-inspired, KurSpa. Here in Canada, Boomers 45+ represent 57.1% of the adult population, and with a growing interest in wellness vacations, this past year we have seen a 10% increase in room nights for wellness retreats and we anticipate this number to triple in 2015."
The integrative health clinic at KurSpa is characteristically distinct, innovatively combining all the services and amenities offered within a full-service spa in conjunction with naturopathic, homeopathic, psychology and kinesiology treatments all under one roof at the internationally acclaimed Swarovski crystal-infused Sparkling Hill Resort. "Our programs are designed to treat the whole body with a combination of naturopathic and conventional therapies that eliminate chronic pain and inflammation, defy aging, and improve health, relationships, and work-life balance", says Dr. Ray Lendvai, medical director of KurSpa."We create personalized healing programs for our guests, comprehensively designed to improve the quality of one's life." Specialty programs include Cleanse and Detox, Healthy Weight Loss, Whole Body Wellness, 55+ Stay Young and Healthy, SHaRP Relationship Programs, Athletes Recovery and Executive Wellness Retreats. Wellness programs are led by the resort's two doctors, Dr. Lendvai and Dr. Strauss.
KurSpa is a whole body, mind and soul experience - a 40,000 sq. ft. European spa oasis where guests explore a better level of health from walking on the acres of private hiking trails to experiencing 7 unique aromatherapy steam and sauna rooms, and having access to over 100 therapies and treatments, 50% of which are health oriented. Health treatments such as Fango and chelation therapy remove harmful toxins from the body that have built up over the years. KurSpa encapsulates the beauty of the natural landscape outside the floor to ceiling windows surrounding salt water pools, Kneipp hydrotherapy, and relaxation and tea rooms. The abundant natural light and setting in nature is naturally healing and uplifting, ideal for health and wellness retreats.
About Sparkling Hill Resort
Sparkling Hill Resort opened in 2010 and is a premier international destination spa resort for extended heath vacations with 149 guest rooms that are in themselves a wellness retreat. World renowned, it is the only resort in the world to incorporate Swarovski crystal elements into every aspect of its design. Located in the Okanagan Valley of British Columbia near Vernon, Sparkling Hill Resort is easily accessible from Kelowna International Airport (YLW) with daily flights from Los Angeles, Seattle, Vancouver, Calgary and Toronto. The valley is recognized for its majestic mountains, refreshing waters, award winning wineries, world-class golf, winter skiing and one of the warmest climates in Canada.