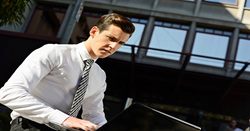 Everyone needs to learn that bullying doesn't only involve children and youth but can actually be a serious issue facing adults in the workplace.
London, UK (PRWEB) May 29, 2014
Bullying is not just an aspect of schools anymore; more adults are facing bullying in the workplace every day. NoBullying releases today a complete guide to workplace bullying.
The guide mentions possible signs of workplace bullying such as verbal abuse to race, gender, sexual orientation or religion. Another possible sign is humiliation in front of other workers or clients as well as damage to computers, vehicles, clothes or equipment so that the victim cannot get tasks done on time. It also mentions cyber bullying as one of the possible signs of bullying in the workplace.
The guide advises victims on not ignoring workplace bullying as well as not bullying back as revenge even if the victim feels rightfully provoked.
Adult bullying victims do not get the media coverage that child bully victims do. They also may find less sympathy to their plight because they are adults. They may be bluntly told by friends and family members to "tough it out" or "just quit."
No worker should have to put up with bullying. Fortunately, there are many things workers can do to protect themselves from bullying in the workplace. Victims need to make careful records, confront their bully's superiors and get any additional help needed.
The guide encourages the victim to carefully document each online incident of bullying. Copies must be made of emails, faxes, text messages and voice mails.
If the victim feels his or her life or the lives of family members are in immediate danger, it is advised for the victim to contact the police or a lawyer immediately. It is also advised for the victim to show law enforcement a copy of all recorded incidents of workplace bullying.
Macartan Mulligan, Co-Founder of NoBullying.com, said, "Everyone needs to learn that bullying doesn't only involve children and youth but can actually be a serious issue facing adults in the workplace."
He added that parents and teachers should make a point to educate the younger generations about the sad outcome of bullying online and offline. According to Mulligan, it is quite imperative to press for more firm laws condemning all acts of bullying and harassment.
NoBullying.com features many pages dedicated to parents, teens, teachers, health professionals as well as posts related to cyber safety and the latest news about law making concerning curbing Bullying worldwide as well as inspirational Bullying Poems and famous Bullying Quotes.
The website regularly updates its bullying statistics and cyber bullying statistics as it is essential to understand how widespread the bullying epidemic is. It also regularly runs cyber bullying surveys and questionnaires to get recent updated statistics on everything related to cyberbullying.
He also added that anyone suffering from bullying in any form or way can always find advice and help on the NoBullying website – but if anyone is suffering from severe bullying or cyber bullying, the best thing is to talk to someone locally – a parent, teacher or local organization that has been set up to help with specialized councilors to deal with this topic.