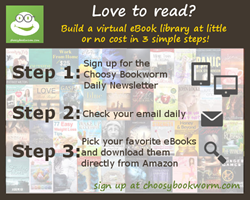 "Many authors thank us for helping increase their visibility," says Jay Lee. "And readers thank us for passing on great deals to them. It really is very rewarding."
Panama City Beach, FL (PRWEB) May 20, 2014
Choosybookworm.com connects book lovers and authors for a win-win experience by distributing a daily newsletter that alerts its most avid reader base of current free and discount eBook deals. While readers benefit from the opportunity to gather a collection of quality eBooks, authors benefit from greater visibility and boosted sales.
"Book lovers now have the ability to download a greater number of quality books at steep discounts than ever before," says Jay Lee of Choosy Bookworm. "Readers have access to so many more choices these days – it is just incredible."
Building a library of free and discounted eBooks is accomplished by following these three simple steps:
1. Signing up for the Choosy Bookworm daily newsletter
2. Checking email daily to see the current deals
3. Downloading the eBooks directly from Amazon
"Within just two short months, we have had more than 3000 avid readers sign up," beams Jay Lee. "They are excited to build their own collection of eBooks at little to no cost."
Authors will occasionally offer their books at a discount to gain new readers or to increase their sales. Many of the featured authors are self-published authors (indie authors), meaning they did not follow the traditional publishing route, allowing for a much greater selection of eBooks than ever before. In order to be sure to pick quality eBooks to feature, Choosy Bookworm screens each submission individually. A featured eBook needs to be a full-sized book with a minimum of 8 reviews on Amazon and a rating average of at least 4 stars.
Readers have the ability to download their eBooks to Amazon Kindles, as well as many other devices. This is possible using the Kindle app which is available for most "smart devices", including the various Apple iPads and iPhones, Windows phones, and Android phones and tablets. Even readers without an e-reader or smart phone can take advantage of these opportunities by reading the eBooks directly on their computer using the Amazon Cloud Reader.
"Many authors thank us for helping increase their visibility," says Jay Lee. "And readers thank us for passing on great deals to them. It really is very rewarding."
To learn more about Choosybookworm.com, visit http://www.choosybookworm.com/about.
To see today's free eBooks, go to http://www.choosybookworm.com/free-ebooks.
About Choosybookworm.com
Choosybookworm.com is an online site that connects book lovers and authors. While authors benefit from increased exposure of their books, readers benefit from the opportunity to build a vast virtual library at little to no cost and discover new authors to enjoy.