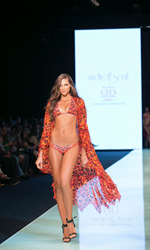 The new collection is a play on sexy and sweet aesthetic that the modern bohemian woman is sure to love.
Miami Beach, Florida (PRWEB) May 18, 2014
Last night, Miami Fashion Week heated up during third night of the its 16th edition. The evening included an Italy and Argentina Showcase that provided a glimpse of trends from around the globe in addition to an Evening and Swimwear Showcase graced by Miss Universe 2013 Gabriela Isler that ranged from the elegant and sophisticated gowns and dresses to sensual and flirtatious bathing suits.
The evening began with the Evening wear Showcase, where Algerian designer Fadila Kilhel's work hit the runway with pieces from her Couture Mirage brand that were inspired by Arab and French culture influences. Next up was Magnolia women's wear whose unique collection featured highly differentiated color and textures with intricate, feminine detailing. The next collection hailed from Poland, with leading Polish fashion designer Teresa Rosati's exquisite collection utilizing top quality fabrics and translating them into high fashion evening wear. Rounding out the showcase was Olga Bolañaos whose collection creative vision tapped into the sophisticated taste and the particularities of the Latin American woman.
The evening took on a jet setting character with back-to-back showcases highlighting the brightest design talent from Argentina and Italy. Agostina Bianchi opened the Argentina Showcase with a stunning collection that emphasized the femininity, delicacy and glamour of the modern woman. Cuarto Colorado presented their novel rain wear collection that boasted unique prints in trench coats, umbrellas, rain boots and ponchos. Mariana Castro wrapped up the Argentina Showcase with a collection that played on simple and pure shapes, revering the beauty and femininity of women. The Italian Showcase opened with Stella Jean who presented a collection that blended cultures and textiles reminiscent of her own multicultural personal journey, followed by Maliparmi with their optimistic feminine style of relaxed chic dresses, unique bags, belts and shoes.
The last showcase of the evening was the hottest of the night with Miss Universe 2014 Gabriela Isler gracing the catwalk, alongside stunning models sporting the latest trends in designer swimwear. Brazilian luxury swimwear brand Sambarela opened with a sophisticated line of vibrant colors and high-quality fabrics. Indie Soul took the stage with their line of luxury bohemian swimwear that featured brilliant colors and eclectic designs and cuts. A brand born in Miami, the highly inspired collection decided to honor their native town by opting to unveil their line in Miami instead of Paris. Closing the evening, Italian swimwear brand Yamamay, with Miss Universe 2013 as their muse, presented a youthful and playful line with warm summer colors.
"Indie Soul is extremely excited to be unveiling the new collection at Miami Fashion Week 2014. We wanted to honor our hometown by unveiling the collection for the first time in Miami, instead of in Paris," said Tim Gorgol, Indie Soul lead designer. "Miami continues to grow as an epicenter of culture and fashion and Indie Soul has been there every step of the way. The new collection is a play on sexy and sweet aesthetic that the modern bohemian woman is sure to love."
Miami Fashion Week culminates on Sunday, May 18h with the Prêt-A-Porter Showcase, Sherri Hill's collection and closed by special guest Agatha Ruiz de la Prada. To celebrate the success of the 16th edition of Miami Fashion Week there will be a Closing Wrap Party at the Surfcomber Hotel in Miami Beach.
###
About Miami Fashion Week:
Miami Fashion Week brings the world's trendiest and emerging designers to the forefront of the American market. This year will mark the introduction of the first international platform for cruise/resort and pre-spring designer collections. Known across the globe as the largest International and Latin American fashion event, Miami Fashion Week celebrates fashion, beauty and lifestyle, and features a unique crossover of international cultures from designers, entertainers and celebrities from around the world. Miami Fashion Week is organized with the support of the Miami-Dade County Department of Cultural Affairs and the Cultural Affairs Council, the Miami-Dade County Mayor and Board of County Commissioners and the Miami Beach Visitor and Convention Authority.
For more information and tickets please visit: http://www.miamifashionweek.com.
For live streaming of Miami Fashion Week: http://www.miamifashionweek.com/video/livestreaming/.
© 2014 MFW Events, Inc. All rights reserved. | Miami Fashion Week® and Miami Beach International Fashion Week are registered service marks of MFW Events, Inc.