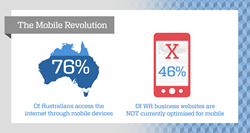 76% of Australians access the internet through mobile devices, 46% of WA business websites are NOT currently optimised for mobile.
Perth, Western Australia (PRWEB) May 21, 2014
​"Working in the West Australian market is unique. The challenges we face are different," says Renae Lunjevich, Managing Director of Bang Online. "As a digital marketing agency, we have struggled to find quality research on how the WA market as a whole is utilising digital to expand and grow in a volatile but prosperous market."
Bang Online saw this as an opportunity to commission an independent research study to educate the market and provide insights into the way others are integrating digital into their overall marketing strategies. The study surveyed 191 WA businesses, exploring the state of digital marketing in WA in 2014. Participants came from a broad spread of sectors, industries and disciplines. This information was used to generate the inaugural WA Digital Marketing Report. The report is the first of its kind in WA, and is planned for annual release.
Overall, the results were promising. The report found that 8 out of 10 WA businesses now consider their online marketing to be equally as important as or more important than their offline marketing. To back that up, on average, half of WA businesses' marketing budgets were spent on digital activities in 2013. There are no plans for this growth to slow either. Digital marketing is expected to grow at the expense of offline marketing spend, with the average WA organisation planning to spend around 58% of their marketing budget around online activities in 2014 – up from the previous year by 6%.
And yet, despite 76% of Australian's accessing the internet via their mobile phones, only 54% of WA businesses have websites optimised for mobile display. Many businesses are now recognising the importance of mobile optimisation, with 65% planning to explore mobile responsive design in 2014 and beyond. Social media has been pushed to the top of the list too, with 3 out 4 businesses surveyed using social media as part of their overall strategy. Email marketing is the third most used digital marketing activity, with a high return on investment and ease of deliverability.
Activities such as search marketing still dominate as the key priorities for WA businesses, with 76% of businesses surveyed stating search engine optimisation and 74% search engine marketing (Google AdWords) as a priority.
With a plethora of digital options at businesses fingertips, WA businesses can create a varied multi-platform strategy. The top 5 key reasons for businesses to utilise digital were noted as targeted, wide reaching, can be delivered quickly and cost effectively and most of all, is extremely measurable. However, along with these opportunities come some common barriers to investing more in digital, and ensuring they can deliver successful outcomes. A key takeaway point highlighted from the study was the barrier of management in an organisation not understanding the potential ROI of digital marketing – which was highlighted as a problem by 32% of WA businesses.
The report also highlights the need for education across the market place with a particular focus on senior management needing to up-skill and fast. While a number of businesses are engaging in the well-known digital activities, most are lacking uptake in the globally popular social media advertising activities across the key platforms of Facebook, LinkedIn, Twitter and YouTube.
The WA Digital Marketing Report allows WA businesses to gain key insights into how their business compares to others, and is free to download.
Visit Bang Online for further information. ​