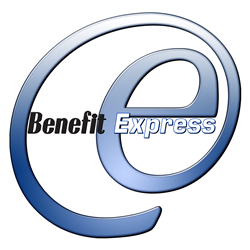 We are all taking an extreme sense of pride in this accomplishment and are excited to see our name eleven stories high everyday when we come and go from our office,
Schaumburg, IL (PRWEB) May 20, 2014
Benefit Express Services, LLC, a leader in providing benefits enrollment / administration services for large, medium, and small organizations, has added a key addition to their corporate headquarters in Schaumburg, IL. On April 26th, 2014 Benefit Express added their company signage on top of its building. Their building is located at 1700 E. Golf Road in Schaumburg, IL.
The sign reflects Benefit Express' text version of their logo and is displayed on the north side of the building. The "Benefit" is displayed in a medium blue and the "Express" is displayed in white, with the sign lighting up at night. Having the company logo on top of this eleven story building adds excellent exposure and presents the opportunity to be seen by thousands of people on a daily basis. The sign faces Routes 90 and 290, as well as a commercial landscape that includes several large volume department stores.
Benefit Express was founded in 2001 by Maria Bradley with its offices being held in Oak Brook, IL. In 2005, they re-located to Arlington Heights, IL and spent 7 years there until moving to their current location in Schaumburg, IL in 2012.
The installation of Benefit Express' company sign atop their building couldn't come at a better time. They have experienced continuous growth in 2013 including:

The addition of a communication module
ACA compliance capabilities
YTD payroll capabilities
Increased interactive education and decision solutions
A 250% increase in the amount of call lines
A 140% increase in the amount of agent licenses and a 240% increase in port licenses
Purchase of enhanced IP phones and upgraded computers for all customer care center staff
The acquisition of close to 50 new client accounts including Vanderbilt University, Lululemon Athletica, Medical College of Wisconsin, Michigan Municipal Services Authority and Lou Malnati's
A new partnership with Jellyvision as an exclusive reseller of ALEX Does HCR
The addition of 58 new employees, which is 4 times the amount of new employees hired in 2012
"We've been experiencing continuous growth over the past few years in every area of our business. As a company, we are very pleased with our Schaumburg location. We are all taking an extreme sense of pride in this accomplishment and are excited to see our name eleven stories high everyday when we come and go from our office," commented Maria Bradley, president and founder of Benefit Express.
About Benefit Express:
At Benefit Express, the focus is on flexible benefits administration outsourcing solutions, online benefits enrollment, and HR outsourcing. Their self-service platform, My Benefit Express™, delivers tools which help clients efficiently manage HR & online benefits administration. With My Benefit Express™ clients have direct access to: customized content delivery, online enrollment assistance, employee benefit education tools, transactional administrative processing/tracking, carrier bill reconciliation, vendor data-links and detailed HR reporting. Benefit Express' benefits administration solutions provide the flexibility for clients to choose how, where and by whom work gets done.
For more information on Benefit Express, please visit http://www.BenefitExpressOnline.com.