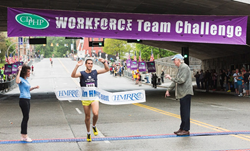 Albany, NY (PRWEB) May 19, 2014
A little bit of rain didn't keep thousands of runners, walkers, volunteers, and spectators from heading to downtown Albany for the CDPHP® Workforce Team Challenge.
This was the fifth year that CDPHP served as the title sponsor of the 3.5-mile race, the largest road race between Utica and New York City. Team CDPHP had more than 300 of the record 9,700 registered runners and walkers in the race, as well as dozens of volunteers.
The top male runner, Kevin Treadway, of Albany Medical Center, finished the race in 17:09. The top female runner, Megan Hogan, of Phinney Design Group, finished the race in 18:32. Hogan also set the record for the best female finisher time in the race's history.
The full list of results, including top finishers, award recipients, and results history, can be found on the CDPHP Workforce Team Challenge website.
The event is organized by, and serves as the major fundraiser for, the Hudson Mohawk Road Runners Club (HMRRC). The funds raised help underwrite many of HMRRC's activities and services, including college scholarships, grants, running clinics, and the Just Run® Program that encourages grade school children to run for exercise and fun.
In addition, four charities benefited from this year's race: Fast Break Fund, Rebuilding Together Saratoga County, Inc., Schenectady Inner City Ministry, and St. Catherine's Center for Children.
About CDPHP®
Established in 1984, CDPHP is a physician-founded, member-focused and community-based not-for-profit health plan that offers high-quality affordable health insurance plans to members in 24 counties throughout New York. CDPHP is also on Facebook, Twitter, LinkedIn and Pinterest.
About the Hudson-Mohawk Road Runners Club (HMRRC)
The Hudson-Mohawk Road Runners Club is the Albany area's largest running organization. The club was formed in 1971 and today has more than 3,000 members who come in all shapes and sizes and from all walks of life, as well as different running styles and speeds. Members are united in their love of running and desire to promote and participate in quality races and running-related activities. The club organizes more than 30 running events a year at many different locations throughout the Capital District. These events offer something for everyone, novice and veteran alike.