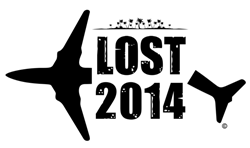 (PRWEB) May 21, 2014
On this, the 10 year anniversary of the premier of the hit television series LOST, over 150 fans from more than a dozen countries are currently registering to attend LOST 2014, an official fan gathering on Oahu, September 20-22.
Because they were such an integral part of the series, fans are flocking to the island for a welcome reception, location tours, possible cast Q&A, and a 10 year anniversary party to include an onsite silent auction hosted by Cancer Gets LOST (CGL) of LOST original art, replica props and autographed memorabilia - available exclusively to those in attendance!
An online CGL charity auction, open concurrently throughout the month of September, will also feature memorabilia from LOST and hit shows like Arrow, The Following, Once Upon A Time, Scandal, and The Walking Dead. 100% of auction proceeds will be donated directly to the American Cancer Society. A portion of all LOST 2014 event ticket sales and sponsorships will also be donated.
LOST 2014 promises to be a memorable experience for fans as event surprises are still being added to the schedule. The event's host hotel is the Hilton Waikiki Beach. Half day and full day filming location tours are provided by My Design Tours.
LOST filmed on Oahu from 2004-2010. Today, it's still making headlines from Entertainment Weekly to Esquire. Further adding to the 10 year anniversary buzz, PaleyFest hosted a cast reunion in March with celebrity panelists Henry Ian Cusick, Jorge Garcia, Maggie Grace, Josh Holloway, Malcolm David Kelley, Yunjin Kim, Ian Somerhalder, and executive producers Carlton Cuse and Damon Lindelof. And rumors of a LOST reboot abound because of the Cuse quote that opens with, "I think it's likely that at some point, ABC will want to reboot LOST because it's a valuable franchise."
For more information, interviews, event updates, or to register, visit LOST2014.com. You can also connect with the event on Facebook and Twitter.
About LOST 2014
LOST 2014 is an official fan gathering in Hawaii to celebrate the 10th Anniversary of LOST's premier. The event is being held on Oahu September 20 – 22, 2014. For more information, visit http://www.LOST2014.com. LOST is owned by ABC/Disney and they are in no way affiliated with LOST 2014.