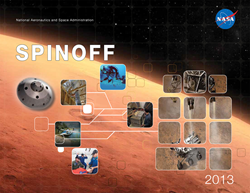 St. Paul, Minn. (PRWEB) May 20, 2014
Development of new Smart Sensor technology through a cooperative arrangement between NASA's Stennis Space Center and Lion Precision is featured in Spinoff, NASA's annual publication of technology transfer projects. NASA has long made it a practice to cooperate with commercial product companies to develop new technologies to serve NASA's needs which can then be commercialized for the broader market.
The cooperative effort is chronicled in the 2013 edition of Spinoff. The publication is available at the Spinoff website at http://spinoff.nasa.gov.
Stennis Space Center required intelligent sensors for monitoring valve condition in rocket engine test cells. Valve failure during rocket engine testing is an enormously expensive problem. The best solution was to monitor valve wear and rebuild the valves before failure. Lion Precision's precise noncontact displacement sensors and proven track record for producing custom sensing solutions made them an obvious partner in the effort.
Stennis required intelligent sensors that could communicate via network to the main control systems. Coincidentally, Lion Precision was deeply involved in the development of a new communication protocol called MTConnect. MTConnect's goal was to enable machine tools to communicate with each other and with quality and production control systems. The MTConnect protocol was modified to create a custom communication functionality for the rocket testers.
The development resulted in Lion Precision's new CompactFLEX technology which is a platform for several different products. Capacitive and eddy-current displacement systems have been created on the platform as well as a soon-to-be-released spindle error testing system.
In 1958, Lion Precision was the first company to provide capacitive displacement sensors to industry. The company has expanded its product offering to include eddy-current displacement sensors and some application specific sensors for the machine tool, packaging and PCB industries. The company is focused on assisting users in sensor implementation by providing expert guidance and optimized systems including custom designs.