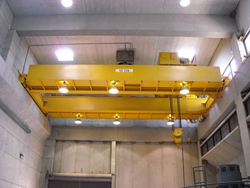 CICB is committed to working with companies, not only to improve safety performance, but to create cultures that foster safe work practices
Houston, TX and Orlando, FL (PRWEB) May 21, 2014
Virtually, all products today have a warning label. In fact, most have multiple warning labels, lights, and bells. It's little wonder, then, that many of us suffer from warning overload and just ignore the warnings. Unfortunately, warning overload has made it difficult to get a meaningful safety message to our employees, especially when the warning is about something that we think is just plain common sense.
"Knowing how cranes are to be used, and how they should not be used, is critical to crane safety," says John O'Connor, Manager of Crane Inspection & Certification Bureau (CICB) Houston Operations. "Overloading and/or side loading a crane are surrounded by misunderstanding and incorrect information in the workplace." CICB is committed to working with companies, not only to improve safety performance, but to create cultures that foster safe work practices.
Overloading or Side Loading the Crane/Hoist
Belief: People think that the manufacturer has built in a large safety factor into the design so they do not need to worry about overloading the crane. It is also believed that dragging a load sideways, as long as it is not beyond the capacity of the crane is acceptable.
Clarification: Overloading a crane is the most dangerous error in the operation of a crane. Although some parts of an overhead crane are designed with a built-in safety factor, this is not true of the entire crane system. Furthermore, most cranes' safety factors are greater than the building's safety factors and overloading the crane could cause the building to collapse. Overhead cranes should clearly state the maximum capacity, which must be clearly readable from all areas of operations from the floor level. The weight of the load must also be known and verified.
Lifting or hoisting anything other than vertically (side loading) is unsafe and very dangerous. This practice is not allowed by the manufacturer, OSHA, or the Best Industry Practices. If one notices a bent hook or paint chipping at the weld where the crane is attached to the beam or building, chances are there has been side loading of the crane. Side loading can ruin a crane, and may cause the crane to fall to the ground.
Solution: Training your operators, inspectors, and riggers can solve this potential problem
"Being aware of these common errors and misconceptions will increase the life and reliability of your equipment, lower your risks, achieve OSHA compliance, improve production, worker skills and morale, and may save your employees and contractors from an accident, injury, or a death," says Billy Cook, Director of Sales and Marketing.
The misconception discussed here represents a small fraction of the issued involved in overhead crane safety, but comprises of an overwhelming majority of crane accidents and breakdowns. Making sure you and those around you understand that overloading or side loading a crane is very dangerous, and you will have a safe and productive day.
About CICB:
CICB, headquartered in Orlando, FL since 1969 with a second training facility in Houston, TX, offers scheduled training programs at our facilities and at various locations across the U.S. or customized on-site training at your facility.
CICB's professionally trained instructors and subject matter experts are not only NCCCO Certified as Mobile, Overhead & Articulating Cranes Operators, but are also CCO Certified Riggers, Signalpersons, and Crane Inspectors. CICB's trainers are also NCCCO accredited Practical Examiners. CICB's instructors have been awarded the prestigious Top Trainer Award in 2013, 2012, 2011 and 2009.