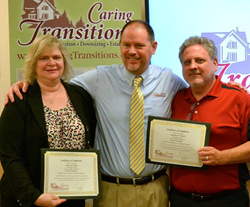 Peoria, AZ (PRWEB) May 19, 2014
Larry and Janis Nader understand that clearing out a family home can be quite the task. In fact, the two had to quit their jobs and relocate for more than two months to handle Janis' father's estate.
But the challenging experience had an upside – it gave the couple the inspiration to open their own Caring Transitions franchise in Peoria, Arizona. Caring Transitions of Phoenix Northwest Valley officially launched on May 19, 2014 and is the second Caring Transitions office to open in the valley.
Caring Transitions is America's largest resource specializing in managing senior relocations, downsizing and estate liquidations. In addition to the organizing, packing and move oversight, Caring Transitions can handle on-site or online estate sales, liquidations, and preparing homes for market. Caring Transitions of Phoenix Northwest Valley serves Glendale, Peoria, Sun City, Sun City West, Sun City Grand, Surprise, New River and the surrounding areas.
"After my father's death, it was necessary for both my husband and me to leave our careers to settle the family estate back in eastern Pennsylvania. Once the estate was settled, I began looking for franchise opportunities and found Caring Transitions. This is the perfect opportunity for us to be able to own our own business again and do something we are proud to do – helping others more easily get through the same difficult times we faced as well as helping seniors and their families to continue to live a more enjoyable life despite the difficulties of downsizing and relocation," Janis said.
In addition to their experience with Janis' father, the couple also has moved 12 times.
"We made the decision we wanted to relocate back to Phoenix to start this new venture in helping others through the difficulties of relocating and downsizing – a subject that we had become all too familiar with between our moves for business as well as settling the family estate. We know all too well the problems, issues and stress that can arise in these situations and we wanted to put our experiences to use to help others have an easier time getting through these types of situations," Larry said.
Larry is a Navy veteran and was awarded the humanitarian ribbon for his efforts in rescuing 20 Vietnamese boat people off the coast of Vietnam in 1982. After his service, he worked in quality control and engineering for General Dynamics Land Systems and later for National Environmental Systems and Intelligent Controls, which was eventually sold to AVL North America.
While working his 9 to 5, Larry and Janis created Great Lakes Hockey Alliance Magazine, which covered all levels of the sport, from junior to the NHL. After the magazine, Larry continued to freelance for several publications and eventually took a job as the Media/Public Relations Manager for the Continental Elite Hockey League, where he handled all media publications, game reports, press releases and served as a broadcast announcer. Before launching Caring Transitions with Janis, Larry also worked as retail Merchandising Manager and a self-storage District Manager.
Janis, who has an associate's degree in business management with a minor in marketing worked for her father's office supply and printing business and has worked in sales and management for multiple businesses including positions as a retail loss prevention audit manager and a property manager for senior independent living communities.
In addition to their individual qualifications, each Caring Transitions franchisee is a Certified Relocation and Transition Specialist, a designation bestowed by an independent organization that evaluates providers of senior relocation services. They are trained, bonded and insured. This new franchise will bring several new jobs to the area as the business grows.
Founded in 2006, Caring Transitions has been a trusted and highly respected national company leading the way in senior relocation, household liquidations and estate sale management in more than 180 locations across the United States. Caring Transitions is part of the International Franchise Association, the Small Business Association's Franchise Registry, VetFran and Minority Fran.
"In addition to being a national leader in the industry, Caring Transitions is the largest resource in our area too. We are the one-stop solution for all your relocation needs," Larry said. "We've been through numerous moves and have lost family members, so we know what it's like to have to pack up a home and handle an estate. We've been there and we know the physical and emotional stress of those situations. We're here to help take on those burdens."
For information on how Caring Transitions of Phoenix Northwest Valley can serve you and your family, call 480-257-7138, email jnader(at)caringtransitions(dot)net or visit http://www.caringtransitionsphoenixnwvalley.com.
About Caring Transitions
Caring Transitions, founded in 2006, is the first national franchising concept specializing in Senior Relocation and Transition Services. With locations throughout North America, Caring Transitions provides clients with expert advice plus a well-executed transition plan beginning with the initial sorting of personal belongings through packing, shipping and selling of items to the final clearing and cleaning of the property. For more information, visit http://www.caringtransitions.com.