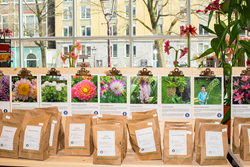 The newly renovated Amsterdam Tulip Museum shop is a safe source of souvenir bulbs for American toursists.
Amsterdam, the Netherlands (PRWEB) May 29, 2014
It's officially summer bulb season at the shop in the Amsterdam Tulip Museum. The shop, which was redesigned as part of a museum renovation this winter, has fresh supplies of beautiful dahlias, eucomis, begonias and other summer blooming bulbs in stock, suitable for planting now through the end of June.
Visitors to Amsterdam often buy famous Dutch flower bulbs to take home as gifts or souvenirs. Unfortunately not every vendor that caters to tourists follows best practices. Some don't offer top quality bulbs, worse still some sell leftover product no longer suitable for planting. Things are different at the Amsterdam Tulip Museum shop. The small museum's shop has been a trusted source of top quality bulbs since 2004. North American visitors will find pre-certified bulbs with stickers that will allow the bulbs to safely clear U.S. and Canadian customs (warning: in both countries, customs officials confiscate uncertified bulbs). The museum's friendly multi-lingual staff is knowledgeable about flower bulbs and other gardening topics.
Year-round, the shop offers bulbs that are appropriate for the current planting season. In fall, for example, the bulbs of spring-blooming tulips, daffodils, hyacinths, alliums, lilies and more are offered. In fall and winter, the selection features big beautiful amaryllis and paperwhite bulbs.
Flower fanciers will also enjoy browsing the shop's carefully curated crafts and gifts, including antique hand-painted Delft tiles and tulip-themed vases, jewelry, trays, fine linens and tea towels, aprons, books, reproduction tile designs, handbags, totes, artwork, and more. Traditional tulip-themed Turkish bowls and plates, leaded-glass sun catchers plates, and linen tea towels are often favorites. Shoppers will also find an assortment of children's items and simply silly souvenirs.
The Amsterdam Tulip Museum is located at Prinsengracht 116, 1015 EA Amsterdam - Netherlands, +31 (0)20 421 00 95. The museum and shop are open daily from 10 am to 6 pm, except King's Day (April 27) and Christmas Day (December 25). Museum admission is €5 for adults, €3 for students and €10 for families. I amsterdam passes and Holland Pass are accepted. No admission is necessary to visit the museum shop.